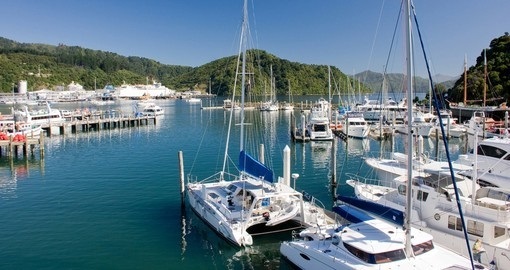 The Marlborough region, located at the northern end of the South Island in New Zealand, is easily one of the sunniest and most laid back regions in the country. Picton is just one of a variety of towns and settlements in the region and is well worth exploring for anyone on a cheap campervan hire trip through New Zealand. In this scenic area you will find an incredible variety of landscapes, a number of famous local wineries, an amazing climate, and friendly, laid back locals. Travelers have been flocking to sunny Picton and the surrounding Marlborough region for many decades to sample this diverse and comfortable South Island territory.
If you plan on passing through the area on your New Zealand adventure, definitely keep the following in mind.
Seafood
Surrounding by water, Picton is known as a seafood capital. In many of the restaurants lining the waterfront as well as inland, you can sample a variety of fresh seafood caught right out of the surrounding waters. Anything from Greenshell mussels to king salmon to a variety of clams and oysters can be had in these eatieries, oftentimes caught from the ocean just that morning. The seafood here is the definition of fresh. There's nothing like a nice seafood meal after many hours spent on the road, and Picton is the perfect place to enjoy this. Backpackers and travelers have been raving about the meals here for years, so make sure to check out what is definitely one of the top draws in the region.
Wineries
This is one of Australia's top regions for wineries, with many of the country's finest red and white exports coming from the plush surrounding landscapes. There are many wineries to tour while you're in the region, offering the chance to check out the lush grounds, learn about the winemaking process, and of course to sample some of the product yourself. You can easily spend an entire day going from winery to winery, sampling wines and enjoying the outdoors in this sunny, inviting atmosphere.



Marlborough Sounds


This scenic, winding coastline is home to secluded bays, historic sites, marine reserves, and hidden island sanctuaries that play host to amazing wildlife and plants such as kiwi and other native species. You can kayak your way through the Sounds or go on a guided boat tour. One thing you should definitely check out is the Queen Charlotte Track, which was Captain Cook's favorite spot to land his ships in New Zealand. If you're on a cheap campervan hire trip through New Zealand, this is an enjoyable, scenic, and free way to really get out there in the nature of the region. The Picton area is known for its bodies of water, its tropical climate, and its wildlife and plantlife. On this journey you can experience all of these in just one day trip. No stay in the region is complete without checking out the Sounds, so definitely make sure to have this area on your list of places to check out.


Biking


With its miles of unspoiled countryside, rolling hills and lush forests, and its thousands of miles of coastline, this region is a biker's dream. It is highly recommended that you get out on the roads at least once while you're here. There are a variety of trails, so research which ones appeal to you the most. The roads in the region are un-crowded and safe to bike on as well. This is a great way to check out and appreciate the unique scenery of the region. Plus, since practically each day enjoys gorgeous weather, you hardly ever have to worry about getting waylaid by bad conditions. No matter if you're an experienced biker or looking to get into the sport, Picton and the surrounding region is a rider's dream.


Swimming


With its perpetually sunny weather and miles of coastline, it cannot be denied that this region contains a wide number of unspoiled beach spots, hidden coves, and other great places to kick back and enjoy the water. The swimming spots are too numerous to count, so just look up the best places near where you are staying. The aqua blue waters are incredibly inviting on a hot day, so find yourself a stretch of beach and dive in.
Combining picture perfect weather, incredible scenery, and a laid back vibe, Picton has long been known as a haven for travelers looking to get off the road and enjoy a long stay in a comfortable, lush atmosphere. No matter your tastes, there area wide range of activities and sites in the area sure to please anybody. Between the scenic beauty and the overall laid back nature of the region, you really couldn't ask for a better stopping place on the South Island. Make sure to mark Picton on the stop list for your cheap campervan hire journey.