Exploring Christchurch on a budget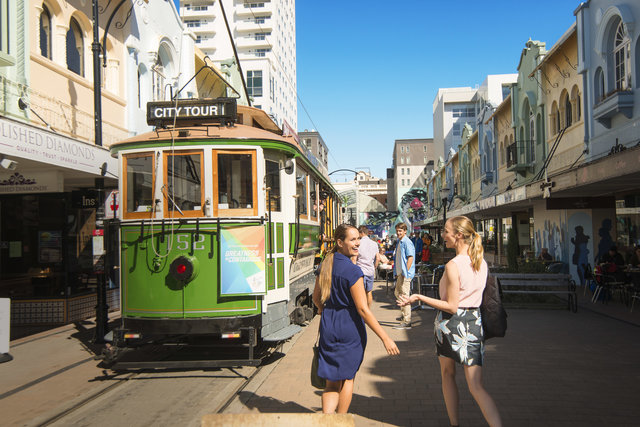 Christchurch is the largest city on New Zealand's South Island, which means the area offers plenty to do for every budget. Known as the Garden City, Christchurch offers ample outdoor opportunities for exploration, many of which are available to enjoy at no cost. Before you hit the road in your campervan hire New Zealand, discover everything that Christchurch has to offer. Then, design an itinerary that fits your budget and allows you to take in the beauty of Christchurch.
1. Visit Hagley Park and the Botanic Gardens.
Hagley Park and the Botanic Gardens sit just 15 minutes from Christchurch's city centre and offer a day's worth of activities at no charge to its visitors. The Botanic Gardens boasts flowering gardens featuring vibrant seasonal blooms, as well as several art installations dotted throughout the gardens. If you're travelling in your campervan hire New Zealand with kids, the paddling pool and playground is a must see. Here, you can pack a picnic lunch to enjoy on the greenspace and then watch as kids take a dip in the pool or play on the playground. Rotating exhibits throughout the gardens expose you to local arts and culture. Tours of the gardens are reasonably priced at just $10 for a volunteer-led 1.5-hour excursion through the gardens. You can also tour on your own at no charge.
2. Check out the Canterbury Museum.
Get a taste of New Zealand culture at the Canterbury Museum. This museum features several different galleries that showcase different aspects of the country's rich history. The Maori gallery includes an array of artifacts from Maori culture. Visit Christchurch Street where you can see what the city was like during historic days. The Living Canterbury exhibit illustrates how those from Canterbury used to live. This museum also includes access to Discovery, a natural history centre that has just a $2 admission and is ideal for children thanks to its many hands-on exhibits.
3. Go on the Bridle Path Walk.
Hikers must do the Bridle Path Walk during their visit to Christchurch. Fortunately, you can enjoy the beauty of this historic walk at no charge. The path dates back to 1850 when it was used by early settlers in the area. This walk isn't for novices or youngsters merely because of its length. It will take you about six hours round trip to tackle the 5-kilometre walk. Your effort will be worth it, however, as you'll take in stunning views of Christchurch along the way.
4. Spend Some Time at New Brighton Pier.
The newly reopened New Brighton Pier offers plenty of free fun in Christchurch. After sustaining earthquake damage, the pier reopened in May 2018, giving a new look to this historic pier. Stroll along the pier to take in expansive views of the ocean. Turn around, and you'll see the city centre not too far away. Take in some sunshine at the pier at no cost.
5. Go to the Beach.
Fun in the sun is available at no cost in Christchurch. Choose from one of several beaches, where you can enjoy a relaxing day on the sand or an active day in the water. Sumner Beach is ideal for those looking to enjoy some food and drink during the day. This area is dotted with cafes and restaurants perfect for a mid-day meal. Locals enjoy Sumner Beach too, so expect to see crowds. If you're looking for a quieter day, head to Tumbledown Bay, where you can relax without interruption. Novice surfers enjoy this spot too, thanks to its small waves. Finally, Taylors Mistake offers something for everyone: a rocky coastline perfect for fishing and powerful waves ideal for skilled surfers. This beach is also a popular spot, so get there early to set up for the day.
6. Take the Ferry to Quail Island.
Quail Island is a short ferry ride away, allowing you to explore this uninhabited island for the day. Several ferries and boats are available to take you to the island, with many offering reasonable prices for this day trip. Indigenous species, including flora and fauna, thrive on Quail Island, allowing you to take in New Zealand's natural beauty during your visit. In fact, more than 95,000 native trees and shrubs exist, meaning you'll have plenty of beauty to take in as you enjoy a day on this secluded island.
You don't need a big budget to take a road trip in your campervan hire New Zealand to Christchurch. On the contrary, Christchurch offers plenty of free or nearly free activities perfect for travellers on a budget. Learn about local history, check out the natural beauty of the area, and explore by visiting some of these destinations during your visit to Christchurch. When you do, you'll have more money in your wallet for other destinations on your road trip, allowing you to spend your money wisely and maximise your means as you road trip through New Zealand.