3 Ways to Wind Down after Work
Written by

News Feature Team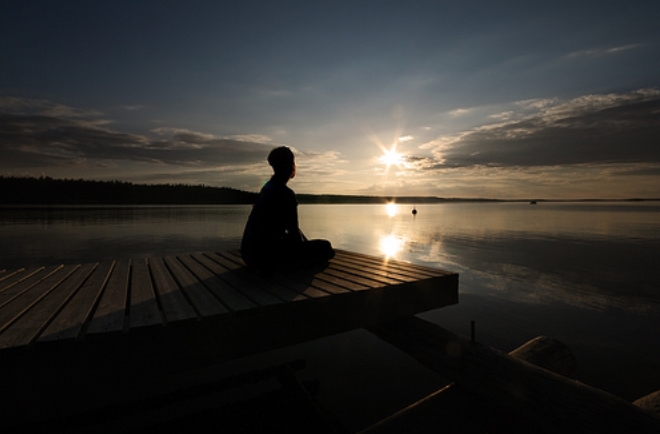 "Placid" (CC BY 2.0) by Miguel Virkkunen Carvalho
Screaming, crying, and laughing are all well-known stress relievers (they're the output of a process called catharsis) but they're not going to make you many friends on a bus. 
It's increasingly difficult for Australians to find the time and space to relax. But, in a world where we have to cope with stressors on a daily basis, relaxation is an essential part of the work day.
Ask somebody how they wind down after work and you're likely to get all sorts of weird and wonderful answers: From acupuncture and grooming a bonsai tree to rolling a ball beneath the soles of your feet or getting lost in meditation and beyond. Here are three quick ideas to help you relax after your shift. 
Scientific Method
Psychologists recommend a five-step exercise to soothe your senses: Orienting, grounding, slowing, coaching, and emerging. In summary, all you'll be doing is focusing on your environment and your place in it (orienting) and offering yourself positive affirmations to change your current way of thinking (coaching).
The breathing technique (slowing) is a proven aid to relaxation. Inhale through your nose for four seconds, hold your breath for seven seconds, and exhale over eight seconds. Known as 4-7-8 breathing, this method is popular with medical professionals. With enough practice, it can reportedly induce sleep in under a minute which sounds useful to say the least. 

"Fallout 4 - PS4 Screenshot" (CC BY 2.0) by Clinton Crumpler
Playing Games
Gaming is an odd one. There are definitely games out there that provide a therapeutic experience - Farming Simulator, Abzû, and Minecraft for example. However, some argue that it's the more intense titles like Doom or Gears of War that may have benefits for mental health. The rationale is that simulations of extreme scenarios help train the mind for difficult situations in real life. 
A firefight with super mutants isn't everybody's idea of relaxation but gaming is arguably the one hobby that has something for everyone. Go rock-climbing with a VR headset, drive a truck across Europe on a PC, or fish for sea monsters on mobile. There are also iGaming titles for fans of brick-and-mortar casinos. It's always a good idea to read expert advice on which are the best Australian casinos before you play.

"Socks" (CC BY 2.0) by josecdimas
Free your Feet
There's a reason Bruce Willis took his shoes off at the beginning of the first Die Hard film. Science indicates that a no-shoes policy in the office induces relaxation and increases employee focus. A Finnish company called Supercell doesn't allow its employees to wear shoes at all.
The more 'new age' therapists have long associated feet with health. Reflexology, for example, posits that you can help most ailments by massaging parts of the feet. While Reiki associates a "blocked foot Chakra" with everything from nightmares and writer's block to insomnia. Make of that what you will.
Stress is a part of everyday life for many people, but the human body is not built to cope with the condition over a protracted period of time. As a final point, and a bit of motivation for relaxing after work, here are just a few conditions that negative stressors can cause: high blood pressure, depression, skin conditions, and insomnia. It can also exacerbate asthma, arthritis and diabetes.