5 Benefits Commercial Fitouts Can Provide
Commercial fitouts involve developing and remodelling interior spaces in order to make them suitable for a business. Many businesses take advantage of professional fitout services, recognising that a well-designed office or workplace is important when it comes to maximising profits, creating a positive environment for employees, and limiting downtown.
If you're considering fitting out your workplace, here are some of the many benefits you and your business can enjoy.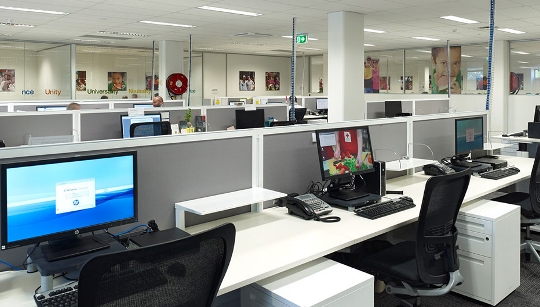 Increased Productivity
A well planned and organised business fitout can greatly increase the efficiency of your staff. This is because workers feel more enthusiastic about coming to work when they're able to work in an attractive and functional space that they feel completely comfortable in. Include open areas in your plan for employees to relax during breaks, as recreation at work can help to encourage a sense of kinship between employees. Ultimately, commercial fitouts can boost productivity and contribute to improved job satisfaction, benefitting your business as a result.
Improved Comfort
A fitout allows you to overhaul your furniture and fixtures to ensure good ergonomics and optimal comfort. This can help keep your employees positive and motivated at work, ensuring they won't experience discomfort that affects their output. Ergonomic office chairs are a particularly popular choice, as they can reduce back, neck and shoulder pain. Studies have shown that by improving posture and reducing muscle tension, ergonomic chairs can lead to increased concentration as well as an overall improvement in health.
Optimised Use of Space
Modern commercial fitouts seek to optimise space, resulting in a clean, uncluttered workplace that has enough space to comfortably accommodate all employees. Consider coming up with creative storage solutions to avoid making the space feel cramped, such as under-desk drawers. Freeing up space helps workers to avoid feeling crowded and also makes your workplace more appealing to visitors, such as potential customers and clients.
Implementation of Modern Technology
A professional fit out provider can show you how you can implement and use modern technology to bring workers together. The modern world requires businesses to make use of the latest technology, with technology improvements such as wireless internet, instant messaging, cloud computing and smartphones allowing for improved collaboration and interaction between employees. Having modern technology can also help to reduce workstation sizes due to equipment becoming smaller and easier to store.
A Space that Reflects Your Company
Commercial fitouts are the simplest and easiest way to represent your company to clients and other visitors to your premises. Ensure you choose themes and colours that show you're working in a flexible and stress-free environment. You should also make sure there are suitable spaces to hold meetings in, allowing you to speak privately with shareholders and clients.
Your entire space should positively reflect your company, as well as its team members and accomplishments. Some ideas for doing this include personalising your workplace with relevant artworks, memorabilia and awards. You should also be on the lookout for trending designs to enhance your working environment over time.