Hertz shares top tips to help customers enjoy a smooth holiday
Written by

Eloise Hurley Wellington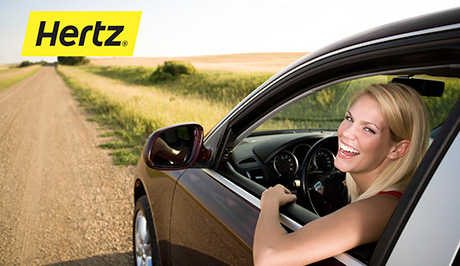 Melbourne, Australia – 10, December 2015 – Hertz has compiled a checklist of the top considerations when renting a car this summer to help holidaymakers make the most of their break over the holiday season.
Car hire is an increasingly popular option among holidaymakers due to the convenience, freedom and savings it offers. In Australia, the car rental industry's turnover grew by 10% in 2013, making it one of the biggest growths in the world*.
In light of this trend, Hertz has put together some tips to help customers save precious holiday time and enjoy a seamless holiday car hire experience:
1- Reserve your car in advance. Particularly during the high season, booking several weeks before departure will help you secure the best deals and the most suitable vehicle. If you know your exact travel dates, then prepaying for your car rental in advance can bring excellent savings.
2 -Streamline your pick-up. Where it is offered, always take advantage of online check-in so that you can spend less time at the car rental counter and more time enjoying your trip. When you arrive for pickup, you will only need to show your online check-in confirmation, driving licence and method of payment.  Car rental loyalty programs may also offer you express rental benefits. For example, if you are a member of Hertz Gold Plus Rewards, you can avoid paper work at the counter altogether. You will only need to show your license and pick-up your keys at the designated Gold counters, or even bypass the counter altogether at some airport locations.
3 - Select the most appropriate car. Finding the most comfortable and appropriate car to suit your needs will make a huge difference to the road trip experience. Car rental companies offer a broad range of options, from small compact vehicles to sedans, people carriers, convertibles and more. The number of passengers and items of luggage, the distance you intend to travel, the kind of roads you'll be driving on, parking options and climate should all be taken into account.
4 - Thoroughly check the rental qualifications and requirements. These vary between countries, companies and even vehicle collections, so be sure to check before booking. Younger renters in particular should note that some rental providers require a surcharge and that each driver must have held a valid licence for at least one year prior to rental. For summer, Hertz has its Young Renters campaign in Australia, which gives drivers aged between 21 and 24 years old the ability to rent with Hertz without paying additional fees.
5 - Pay attention to the coverage included in the rental. Car rental companies include third party liability insurance and, in most cases, theft protection and collision damage waivers which, in the case of vehicle damage, reduces the renter's liability to a stipulated excess amount. If these products are not included, it is highly advisable to add them. Additionally, companies offer waiver products which reduce the renter's liability to zero. Bear in mind that if you opt for insurance coverage via certain credit cards or third party insurance providers, your car rental company will charge you if the vehicle is damaged. It will then be up to you to make a claim with your own insurance provider to recover the cost.
6 - Check policies for kilometres and fuel. Unlimited kilometres allows for the greatest flexibility to make the most of your hire car, especially when planning to drive long distances.
Most car rental companies supply vehicles with a full tank of fuel and charge for fuel usage and a refuelling fee if they are returned without a full tank. When you refuel the car before returning it, remember to ask for the receipt as some companies require it. Also make sure that the petrol station is close enough to the retuning location so are returning your vehicle with a full tank. Customers who prefer to avoid the hassle of stopping at a filling station immediately before handing back the vehicle can opt to prepay for the fuel at the beginning of the rental.
7 - Consider additional products and including a second driver. Child seats, portable Wi-Fi hotspots or GPSs are just some of the products offered by car rental companies to help make their customers' journeys smoother. Including an additional driver can also be very useful for long journeys and family breaks.
8 - Assess where to collect and return the car. Often, it is possible to drop off your rented vehicle at a different branch to where you collected it. Although this may incur a one way fee, this option can be a huge time saver if you're planning onward travel from a different location or don't require a vehicle for the entire duration of the holiday.When weighing up the options, it's worth taking into account that car rental branches at airports and train stations usually have longer opening hours than downtown locations.
9 - Thoroughly check the condition of the vehicle. When collecting the car, it is extremely important to make sure that any existing damage is reflected on the vehicle condition form before driving off. Inspect the vehicle carefully and ensure any blemishes, both inside and out, are noted down by the car hire company representative.
10 - Ensure you keep a copy of all signed documents. Customers should be given a copy of the contract and the vehicle condition form before starting the rental. Is it advisable to keep these documents for at least one month after the rental in the event of incurring any additional charges.
11 - Use the car responsibly. Look after the car and it will look after you. Cars are valuable assets and rental companies will expect them to be returned in good condition. For instance, rental cars should not be driven off road or on the beach. Take into account that some companies charge additional fees if vehicles are returned very dirty and also remember that smoking in the vehicles is not permitted.
*Information published in September 2014 by Euromonitor International.
http://www.euromonitor.com/car-rental-in-australia/report
ABOUT HERTZ GOLD PLUS REWARDS
Hertz Gold Plus Rewards® is a free loyalty rewards program entitling members to a number of exclusive benefits, including express pick-ups and returns. Members can earn points from qualifying rentals for use towards reward rental days. To become a member, customers can enrol online at www.Hertz.com.auor at a Hertz rental counter, or by calling Hertz Customer Care.
ABOUT HERTZ
About Hertz Australia (www.hertz.com.au)
Hertz operates its car rental brands in more than 10,300 corporate and licensee locations throughout approximately 150 countries in North America, Europe, Latin America, Asia, Australia, Africa, the Middle East and New Zealand. Hertz is the largest worldwide airport general use car rental company with more than 1,600 airport locations in the U.S. and more than 1,300 airport locations internationally. In Australia, Hertz has approximately 220 locations including all major airports, cities and a large number of regional towns. The fleet includes a range of well-maintained vehicles encompassing economy, intermediate and full-size cars as well as the Prestige, Fun, Family and Adrenaline Collections. In addition, minivans, 4WDs, trucks, mining and commercial vehicles are available to hire. As a global leader in its field, Hertz offers a range of innovative products and services including Hertz Gold Plus Rewards, the specially designed NeverLost® satellite navigation system in a range of languages, Mobile Wi-Fi and Premium Roadside Assistance.