Pizza Franchise Opportunities To Get Into To Make Some Money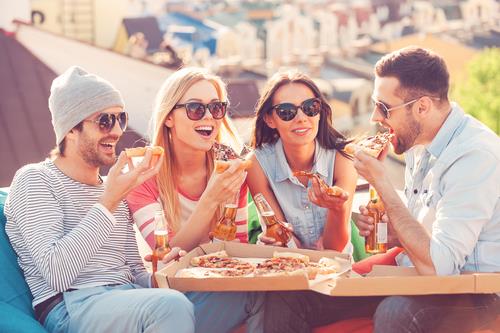 Having a franchise is a good choice if you want to have a business that already has an established framework. You won't have to build from the ground up; instead, you can learn and develop the business as you become your own boss.

The pizza industry is a good franchising business that you can get into because it's a favorite of many. It's easy to eat, and it's one of the most common foods being delivered. You can take advantage of getting into this type of business and make some money.

Below are some of the renowned pizza franchising opportunities available to choose from.
1. Papa John's Pizza
Papa John's is considered as the 4th largest pizza delivery chain in the United States, which is an excellent indicator that they have a strong customer base. There are more than 5,300 locations to date, both company-owned and franchise stores. One advantage of a Papa John's franchise is that they can cater to the United States, internationally, and even non-traditional venues like airports, schools, theme parks, and more. As a franchisee, the company will provide 6-8 weeks of initial training, and there will be ongoing trainings with your teams too.

Concerning the costs, the initial franchise fee is 25,000 USD, which is waived as of this time of writing as part of their current incentive program. Financial requirements include at least 75,000 USD in cash or liquid assets, at least 250,000 USD net worth, with the means to obtain financing up to 275,000 USD.

The royalty fee is at 5% on net sales monthly but can change depending on the current incentive program. As a franchisee, you're also required to have at least 8% of net monthly sales allocated to advertising and marketing efforts. If you want to know if this is the best option for you, you can have a cost analysis at franchiseknowhow.com.
2. Blaze Pizza
Although considered new in the industry compared to other known names, the past eight years have seemed to be working well with Blaze pizza, as it currently ranks #61 on Entrepreneur's Franchise 500.

There are now more than 300 stores, both franchises and company-owned. They are still seeking for franchise units throughout the United States, Mexico, Australia and New Zealand, and Asia. They offer two weeks of training in their facility in Pasadena, California, plus another two weeks in your store.

Initial franchise fee with Blaze Pizza is $30,000. However, it's at 20,000 USD if you want their certified training store. As a franchisee, you need approximately 500,000 USD in liquidity, and their franchise disclosure document states that the typical cost of a restaurant ranges from 391,800 - 858,000 USD.

Their royalty fee is currently at 5%, while the advertising fee is at 2%. If you want to join a pizza brand for a safer investment that's still in its growing but promising stages with lots of locations available, then Blaze Pizza could be the one that you're looking for.
3. Marco's Pizza
Marco's Pizza has gained a name as the only major pizza chain in the U.S. to be founded by a native Italian. At the same time, it has also been recognized among the Franchise 500 list of Entrepreneur. One notable thing about Marco's Pizza is that while its growth since 1978 can't be considered revolutionary, there is an increase in momentum in the last seven years, growing their franchise units to more than 600 in that period.
There are more than 900 stores to date, located in 34 states in the U.S. and three other countries. With that being said, there is still a lot of growth in the company that you can take advantage of as a franchisee.
Costs would include a 25,000 USD initial franchise fee, and estimated start-up cost of 383,780 to 528,330 USD for a traditional store that can go up to 762,530 USD for expanded seating. The company requires at least 125,000 USD of liquid assets and at least 400,000 USD net worth.
Royalty fee is at 5.5% and advertising fee at 5%. The company is seen as one of the fastest-growing chains in the industry, and it could be the trusted name that you're looking for when starting your pizza franchise venture. As a franchise owner, Marco Pizza also requires that you are hands-on with the operation, or a partner with at least 10% equity. This is their way of making sure that you are the restaurant owner they are looking for, and you'll surely gain a lot of business experience.
Final thoughts

If you've been thinking about opening a franchise, then the pizza industry definitely has lots of opportunities for you. The three companies listed above are only a few of them, but it can help you start with your research and options. While franchising still entails a lot of for you, the established structure will remove a significant burden on your back as a business owner.