How to Choose a Jib Cranes Supplier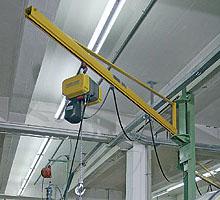 Jib cranes are ideal for many different work sites. Whether you work in a factory or a warehouse or you have an industrial type of business, a jib crane will provide you with the mobility you need to move heavy objects without manpower. These cranes can be a lot less expensive than you think, but it's important that you find a dealer and supplier you can trust. This article provides an overview of jib cranes with some tips to help you choose the best jib cranes supplier.
What Exactly Is a Jib Crane?
A jib crane is attached to the floor using bolts and is uses to hoist items up into the air to be moved. These cranes can range in size as well as price. They're best used for industrial businesses and companies as well as auto-mechanics and construction. For this reason, a lot of business owners and industrial workers are choosing jib cranes because of how versatile they are. You'll find that this type of crane takes the guesswork out of just about any type of project that you have coming up. Jib cranes can also save you time and money, as you or your workers won't have to do the manual work yourselves.
How to Choose the Right Supplier
There are many different jib crane suppliers out there, which can make it difficult to find the one that's right for you. For this reason, it's important that you look at all the different suppliers and compare them so you can be sure you'll be provided with the most suitable crane at a reasonable price. Some of the different things to look for when choosing a crane supplier include:
*  Affordability

*  Structure and stability of the jib cranes

*  Delivery and installation options

*  Education available on using the cranes

*  Reviews and ratings from other customers

*  Different crane types and options available
You'll want to take your time when researching crane suppliers, as it's important to be sure you're choosing a reputable supplier. Be sure to take a look at suppliers located close to you and determine whether they offer delivery and installation.
Buying and Using the Crane
In order to buy the right jib crane, it's important that you know what type and size of crane you'll need. There are many different cranes available, which can make it hard to know which one you should buy. You want a crane that will be large enough for whatever projects you have going on right now as well as in the future.You'll then want to compare prices so that you can be sure you're choosing an option that's right for you and fits within your available budget.
Many people choose jib cranes to help with their workplace lifting requirements. As long as you take a good look at local suppliers and compare them, you can be sure you'll get a crane that can meet all your needs and provide you with years of reliable use.