Do you really save with solar power?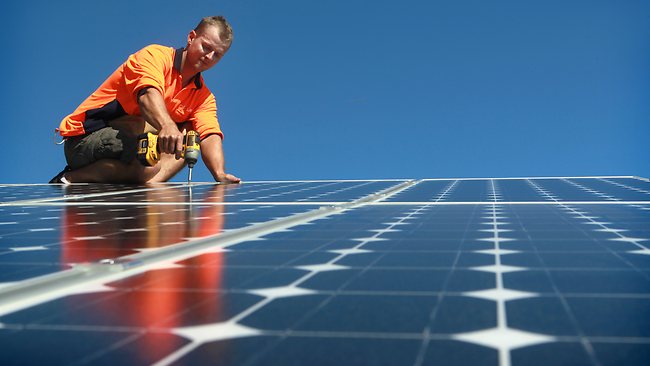 There is a lot of mystery for many people when it comes to solar power. Not many home owners know enough about solar power to make a proper informed decision as to whether it is right for them or not. It's unfortunate to say that it may not be right for everyone and it certainly won't make you rich by feeding power back into the grid, sorry! In saying that, you can help make a difference to your family's energy bill.
How Does Solar Power Work?
Panels are installed onto your roof which then collects sunlight and converts it into energy. This energy is then generated into 'free' energy and put back into the grid. That's correct, you don't actually get to keep the new energy you have collected through your solar boards. However, before you go on thinking that green energy is a waste of time you do benefit from your collecting efforts. All of the energy that you generate is measured and deducted from your energy bill, however it is very rare that you would have your whole energy bill covered.
How Much Do Solar Panels Cost?
Solar isn't cheap, they can cost up to $10,000 (possibly more) depending on who installs them. The price is dependent on the number of panels you need to best cover your roof. Over time the boards can pay for themselves but this also depends on the area the panels are placed and how much sun access they have.
Will Solar Cover My Whole Energy Bill?
In short, most likely not. For a normal household, solar energy would only help to cover anywhere from between 25% - 40% of the electricity bill. With Australian households now paying the highest electricity costs in the developed world this saving still has a big impact on the amount you pay over time. Many energy companies claim that you can offset the entirety of your energy bill. Unfortunately this is just a marketing ploy although some very energy savvy users have found they have been able to cover their whole bill through the energy produced by their panels.
Are Solar Panels an Investment?
Now day's most boards come with a 20 year guarantee. This means you will be saving on your electricity bill for at least 20 years, a win for you as this is money you can spend elsewhere. Even if solar only covers the cost of your hot water that is a huge saving over time. Looking to move house? Evidence of solar energy can help increase the value of your property with potential home buyers seeing this as a way for them to save on their own bills. Better still, with the rise in public interest in green energy and helping sustain the environment, the evidence of these panels will make your house look more attractive to a potential buyer.
How Will I Know Where To Install?
An expert will be able to come and assess your roof. They will make sure that the roof is secure and able to safely hold the solar panels. They will also map out which area of your roof is the best for the panels to be placed, they will be able to work out how much sun and shade cover your roof gets, helping you work out which size system will best suit your needs.
The Impact on the Environment
If environmental sustainability is a concern of yours then the inclusion of solar in your home will do more for you than just affect your overall bills. Solar power is a great way to eliminate your household's contribution to global warming, with solar power actively contributing to the decrease in harmful greenhouse gas emissions. Your boards will never produce any waste or pollution.
Who Will Install Your Panels?
Make sure you do your research and go with a reputable power supplier. With the rise in solar becoming so popular there has been an increase in dodgy sales cowboys claiming they can install your panels at a great price, don't be fooled! Your panels should only ever be installed by a professional.
Overview
Above are a few things to think about when considering if solar panels can really save you money. Every household is different, and the role solar power will play to your household differs depending on your usage.
*   Solar panels will collect energy from the sun turning it into energy that feeds back into the grid.

*   Solar panels can cost up to $10,000 (or more) depending on the company you use.

*   Your panels will not likely cover the cost of your electricity bill – generally only between 25% - 40%.

*   Minimum 20 year panel efficiency warranty

*   A professional will be able to tell you which panel package best suits your needs.

*   Contributes to the decrease in harmful greenhouse gas emissions.

*   Only ever have a reputable professional install your panels.
Already using solar power? Let us know what you think, does it save you as much money as you thought it would?