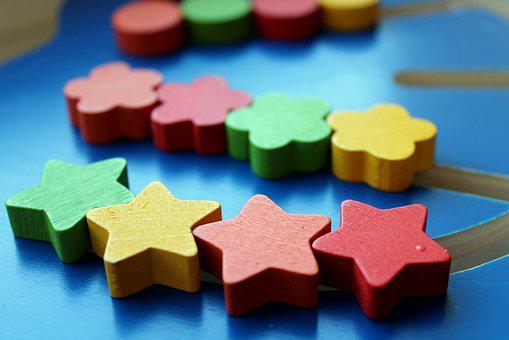 Kids love toys as they are fun to have and play. Kids, regardless of the age, will authenticate that their time flies by when they are playing with toys either alone or with friends. Every kid wants the most trending toys and compete with friends in terms of the make and design of their toys. For children toys are the most precious gadget and they show off their toys to their fellows and friends. Just take your kid to the neighbourhood toy shop if you have any doubts and see them point at the number of things they cannot live without. Toys can possibly teach your child in multiple ways. They are great tools for your child's educational, social, and physical development.

Playing with toys play an enormous role in the development of mental acuities of young children. Your child's interaction with the kind of toys you have provided will have an impact on their mental and emotional growth.

We have compiled a list of some exciting toys to unleash your child's creativity and imagination, let us take a look.

PUZZLES
Puzzles are excellent toys to develop your child's fine motor skills and hand-eye coordination. They require shape recognition, patience, and concentration to complete – the foundations of a creative mind. You can buy your child more and more complex puzzles as they grow up and join in the fun, too.
BALLS
Children learn to play with balls by first rolling, to kick, bouncing, and then eventually throwing and catching them. As they do so, you will notice an improvement in their hand-eye and foot-eye coordination, agility, focus, and body strength. As they grow up, they will learn to play and be good at different sports, too.
ART BOXES
Brushes, paints, crayons, colour pencils, and papers. You are preparing the little one for the big canvases of life. Creating art opens up your child's mind to a universe of imagination. Ideas that are hard or impossible to express through words are easy to convey and express through painting onto blank sheets of paper. Do not mind if they make a little mess; they have just taken another step towards emotional and social growth.
FIGURINES
Who did not love playing with action figures and dolls as a child? These little plastic or wood characters become alive in a child's imagination. Children love to enact dramatic storylines they are familiar with and give voice to these characters. Parents should also actively be involved in this kind of play to provide positive reinforcement and guide the narrative where possible.
PLAYMATS
Playmats come in various designs and sizes. For babies, playmats have high visual contrast with colours. Playmats will stimulate your baby's visual perception skills. Babies also tend to reach out and move to touch different objects designed onto the playmats, enabling movement and strength development. For older kids, playmats come in the cityscape, train tracks, farmlands, and all sorts of designs to stimulate creative play boosting cognitive development.
BUILDING BLOCKS
Building blocks are a whole lot of fun and learning. They help develop fine and gross motor skills. Children learn about balance, gravity, assembly, and geometry as they build things. It improves their sense of space and alignment. It improves their understanding of sizes, shapes, and weight.
INTERACTIVE BOOKS
Interactive books are a captivating, magical experience for a young child. They have an opportunity to become a part of the story by making decisions. Animated sounds and action make it all the more exciting. By reading the story aloud, children get to learn new words and their pronunciation. It helps them develop the ability to comprehend narratives, making important connections with characters and the story.
TOOLKITS
Children learn a great deal by imitation, and they always see you fix things around the house. If they want to help you out, you cannot just give them an actual drill or hammer. That is where pretend tool kits come in. They are safe and sparks creative play in your child. You can teach them all about safety and the functions of each tool.
TELESCOPES
Telescopes are better suited for children over the age of 5 and are a great deal of fun for the adults, too. Let your child explore the cosmos and use this as an opportunity to teach them about stars, constellations, suns, planets, and the entire universe.
MUSICAL INSTRUMENTS
Musical instruments are perhaps one of the most important gifts you can give to your child. Musical instruments are so much more than toys. They enhance your child's sense of self and give them a healthy outlet for expressing their emotions. As they learn to play music, so does their use of words become better. Music plays a vital role in the development of your child's motor skills, emotional maturity, social skills, language, and intellectual capabilities.
ROBOTS
Building robots with your child is a great way to bond with them. It is a complex task, but one that requires creativity, fine motor skills, coordination, and learning about mechanics. It enhances your child's sense of what they can achieve. It gives a boost to their confidence when they find out that they can build objects that can control the world around them. Do not worry, this may not turn them into supervillains, but who knows?
CLAY & DOUGH
Squish, squash, and roll. While it sounds brutal, you have nothing to worry. The little geniuses are simply developing the muscles in those tiny hands and sculpting their first piece of art. Children learn about textures, shapes, colours, and moulding them into familiar objects or objects that are straight out of their imagination. Either way, clay and dough boost your child's creativity.
CONCLUSION
There is a wide variety in the choice of toys available at toy shops these days. You can pick from arts and crafts, educational and science toys, electronic toys, creative books, ride-on toys, outdoor play equipment, and indoor games. Fuel your child's imagination and creativity by choosing the right toys. They will enhance their experience, self-awareness, confidence, knowledge, and thinking skills.
Play is vital for a healthy brain and body development. It works magic in creating a strong bond between parents and children, playmates, and the objects they interact. For instance, studies showed that children who play with animal figurines tend to grow up loving and caring for actual animals. The kind of toys you give your child today will have a deep influence on the kind of adults they grow up to be. So, when you are out with your child the next time to pick out the toys for them, choose wisely.