7 Great Ways to Make Your Backyard More Fun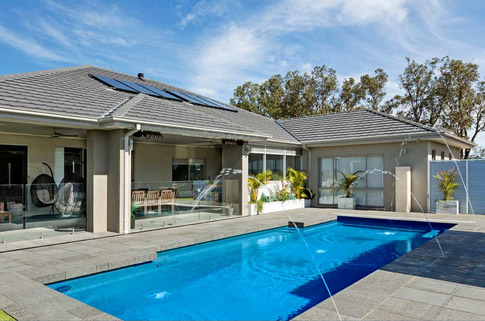 Entertaining house guests with your backyard patio is something every homeowner has fantasied about. Getting all your friends and neighbours over to enjoy a backyard barbecue or a family Christmas lunch is something everyone should try.
Let's look at some tips you can use to improve your backyard so that it's fun for children and adults alike.
Buy a new barbeque
Your barbeque area is only as good as the barbeque, so make sure you have a good one! You get what you pay for when it comes to outdoor cookers, so don't cheap out and get something of poor quality.
Also, make sure you know all the safety tips for operating a barbeque! When you're dealing with gas heating, there's always a risk of a dangerous explosion if you are careless and don't use the unit properly.
Buy a trampoline
One important part of outdoor entertaining is keeping children busy while the parents talk over drinks. Backyard playsets and trampolines are great fun for kids.
Make sure to go with a netted trampoline with padding that makes it safer for children.
Get a backyard pet
A big backyard dog is a great way to entertain both you and your guests. They can play with kids and adults alike!
Of course, you can't just keep them in the backyard all the time! Make sure you take your pet out for regular walks or to play with other pets.
Build a garden
There's no better way to add colour and a sense of vibrancy to an outdoor area than with an elaborate garden. Gardening can be an incredibly rewarding hobby to undertake and your guests will definitely praise you on your skills.
There's a lot you need to remember when it comes to protecting your garden from insects and disease. If you neglect your garden, it will make your backyard look worse than if you have never bothered building one!
Build a firepit
You're going to want to keep your guests warm while entertaining them during the evenings and winter months. A firepit is an excellent way to keep everyone toasty and act as a focal point for your gathering.
Remember to be mindful of your local laws around building and using a firepit as you may need to meet certain conditions for safety reasons. You don't want to be responsible for burning down your neighbourhood!
Invest in a swimming pool
A swimming pool is the biggest investment on this list, but if you can afford it – then why not? A backyard swimming pool will take your outdoor entertaining to the next level as you'll be able to host summer pool parties that everyone will love to attend.
Keep in mind that a swimming pool requires a lot of maintenance and you might not get any use out of it during the colder parts of the year. There are also lots of safety considerations when installing a pool such as adequate child safety gating. While you're at it, perhaps you can write a blog post about the experience?!
As they say – build it and they will come!
Build a cubby house
A cubby house is an awesome way to start a DIY project that your kids will be really grateful for! They can be as basic or as elaborate as you're willing to build them, so don't hold back on your creativity!
Some of them even have in-built fun slides and puzzles or pseudo-kitchen sets that make playing home even more enjoyable. Every kid who grew up with a cubby house fondly remembers it! While you're entertaining outdoors, you can always enjoy vaping with e-juice flavours from websites with a variety of flavours.