Dirt Bike Girls. Ride Like Hell and Dressed to Kill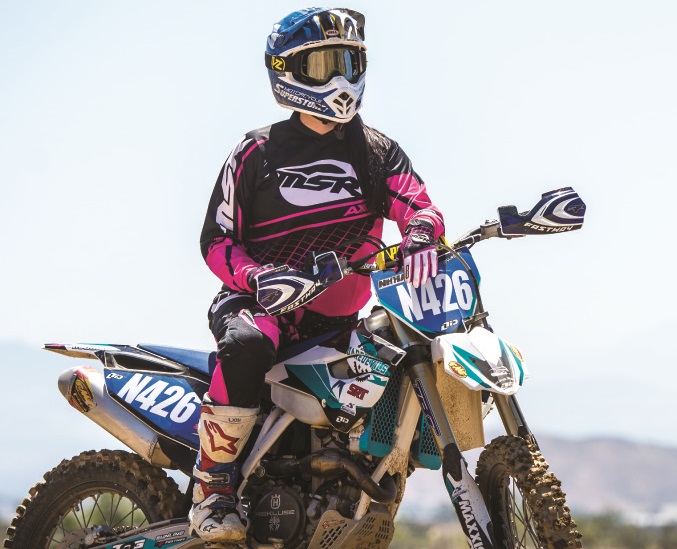 Motocross and Supercross, like just about every other sport in the last 25 years, has seen incredible growth. Not only regarding popularity but also in terms of inclusion.
Europe where's the proud badge of being the home and origin of motocross. During the 1960's motocross came over to the United States.
Australia, motorcycling clubs have been around in one form or another for around 100 years. The Auto Cycle Council of Australia (ACCA) which was formed around 1928 to serve the interests and needs of motorcycle clubs at both state and national level.
However, as a sport, motorcycle events were around much earlier.
In the motocross world, women have increased their participation, especially since the 1970s.
Although, it may also be true that women have been there all along with Clara Wagner winning a male endurance competition in 1907.
Not long after that in 1916 two Woman, Adeline and Agusta Van Buren managed to achieve a Transcontinental ride. Many years later we had around 20 women all compete in an off-road event known as the "Hopetown Grand Prix."
While interest in women's motocross has only increased over the years, it's also true to say that it has had its fair share of setbacks.
Lack of sponsorship and lack of public interest have made it difficult for the women's motocross league and the women's motocross Association to make headway for women wanting to compete at a national level and beyond.
However, all of that has appeared to turn around in the last few years.
Last year we saw Western Australian Jessica Moore take out the 2016 Yamaha Motorcycle Insurance Australian Women's Motocross Championship as part of the grand finale of the Motul MX Nationals.
Kawasaki's Meghan Rutledge also proved herself to be a worthy opponent inner tight race in which Honda's Steph Cutler was also a huge contender, securing the first of the MXstore holeshot.
Those descriptions of the women now competing in Motocross tell you something about the interests of sponsors.
Along with Kawasaki, Honda and Yamaha we have also seen the interest from the world of fashion from MX Store whose women's fashion lines in MX include big names like Thor, Fox and Oneal - each one now boasting fully developed and dedicated lines of clothing for MX women.
Maddie Brown, who was narrowly beaten out in the 2016 DPH,
Showed herself a true champion in 2017 at the August Yamaha Motor Finance Women's Australian motocross Championship in Coolum where she was crowned the victor of the Motul MX Nationals.
Both Brown and Moore provided huge crowds with some of this year's most intense racing.
It's also worth noting that the event also saw record numbers of women line up for the championship - another signal of the sports growing interest.
Additional sponsorships have come from Motorcycling Western Australia Women's committee as well as fund raising at the ground level through venues like Bunnings Warehouse.
Backed by solid sponsorship and solid financial support, the women in Motocross are growing in number and determination.
As local and national bodies continue to develop their resources women's motocross has a promising future.