A Guide to Sydney's Bold, Innovative and Inspiring Autumn Arts Scene: What's Ahead in 2016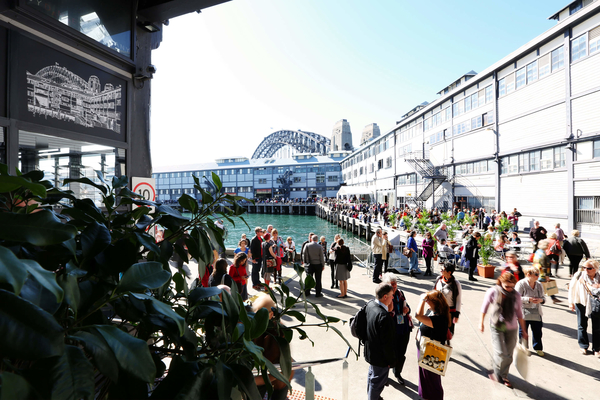 As Autumn descends on Sydney, the change in season will bring a vibrant program of must-see arts events that offers visitors a variety of artistic and cultural experiences ranging from outdoor operatic spectacles to thought-provoking talks and discussions as well as contemporary art installations and world-class theatrical performances.
With Sydney playing host to major exhibitions, theatre, live performance and festivals, Destination NSW has confirmed that cultural tourism is on the rise with the State attracting almost 6.4 million overnight cultural visitors in the year ending September 2015, a significant 6.9% increase on the previous year.
"Sydney has become a mecca for cultural tourists and the number of arts events make Autumn one of the greatest times of year to visit," said Minister for Trade, Tourism and Major Events, Stuart Ayres.
 "Sydney's diverse Autumn arts calendar provides a wonderful platform for visitors to sample Sydney by combining their love of art with the city's great travel experiences, including exciting new restaurants and bars, world-class, boutique hotels and new cultural precincts.
"Sydney's burgeoning creative precincts, such as Chippendale and Ultimo, focus on bringing art to the city and have fostered vibrant artistic hubs where the city's creative community can flourish," Minister Ayres said.
Sydney's Autumn arts calendar offers an eclectic range of events and exhibitions to enchant audiences of all tastes and ages, from artists to art lovers, collectors to connoisseurs, and those who are simply keen to have a peek.
Destination NSW's picks for Sydney's 2016 Autumn arts scene:
For sound and spectacle:
Handa Opera returns to Sydney Harbour from 24 March to 24 April to present Turandot, Puccini's exotic fantasy about a brutal princess and the brave suitor who will make any sacrifice to win her love.
Performed on a purpose-built, over-water stage on Sydney Harbour, Turandot features big dance numbers, larger-than-life sets and powerhouse voices, and includes opera's most famous aria, Nessun Dorma. This breath-taking assault on the senses will ring out across the harbour, with visitors experiencing the best of Sydney in one single evening: world-class opera, harbourside dining and spectacular sunsets amidst the city's famous icons, the Opera House and Harbour Bridge. 
To get out and about:
Autumn will see contemporary art lovers making a beeline for the Harbour City to experience Australia's largest and most exciting contemporary arts festival, the 20th Biennale of Sydney, running from 19 March to 5 June. 
In 2016, the 20th Biennale of Sydney, titled The future is already here — it's just not evenly distributed, will see more than 80 artists from around the world creating artworks for the festival. Works include space suits hand-sewn from Zimbabwean Dollar notes; a forest-like installation representing a grove of eucalypts; an intimate space for meditation and contemplation based on traditional Japanese garden design; and a large-scale reiteration of Picasso's Guernica created entirely from coloured-sand.
The festival guides visitors through some of the city's most important and exciting arts precincts, including Carriageworks, the Museum of Contemporary Art, the Art Gallery of NSW and Cockatoo Island, a former convict settlement and shipyard in the middle of Sydney Harbour. The three-month exhibition and its accompanying program of artist talks, performances, forums, guided tours and family days, are all free to the public.
For the brave at heart:
Visitors to Sydney are being invited to delve into the world of Australia's most inspiring, modern-day explorers in Trailblazers Talks, a special series of night talks held at the Australian Museum on Thursday evenings from 25 February – 14 July. Listen to tales of harrowing journeys and survival from Australia's greatest living explorers including Kim McKay AO and Jessica Watson OAM, Clark Carter and Chris Bray, The Crossing director Jules Harvey, cameleer and explorer Andrew Harper, astronomer Fred Watson and multiple-record setting caver Alan Warild.
Trailblazers Talks accompanies Trailblazers: Australia's 50 greatest explorers, the interactive exhibition currently showing at the Australian Museum until 18 July 2016.
To be entertained:
From 18 April – 15 May 2016, hundreds of the world's funniest comedians will take to stages across Sydney to entertain and delight audiences at the 12th Annual Sydney Comedy Festival. Featuring performances from Australian and international acts, as well as emerging talent, the festival will deliver stand-up, sketch, satire, improvisation, musical, absurdist, theatre, magic and kids comedy. 
For performance:
Theatre buffs will want to explore Sydney's many eclectic playhouses to experience their Autumn productions. For the first time in almost a decade, Australian actress Lisa McCune will return to the Sydney Theatre Company from 3 March – 9 April in the world premiere of Machu Picchu, while at Belvoir St Theatre, Daniel Speilman (The Code) and Yael Stone (Orange Is The New Black) star in The Blind Giant is Dancing until 20 March.
For reading between the lines:
The biggest names in literature will descend on Sydney to present a week-long schedule of inspiring talks, panels and performances from 16 – 22 May 2016, at the Sydney Writers' Festival. With more than 300 events to choose from at various venues across the city, Sydney Writers' Festival is designed to stimulate, move, inspire and provoke, and will attract talent from all literary forms, including contemporary novelists, screenwriters, musicians, non-fiction writers, public intellectuals, scientists and journalists.
To join a conversation:
TED (technology, entertainment and design) Talks have the power to move people, to stir engagement and conversation, and ignite new passion. In 2016, the 7th annual TEDxSydney will take place within the Concert Hall of the Sydney Opera House on Wednesday 25 May. This full-day event will blend talks, performances and specially produced films on a diverse range of topics, delivered by a variety of thought-provoking voices. Registrations to attend TEDxSydney as a member of the live audience will be open from late February.
To add to the itinerary:
While in Sydney, visitors can also take advantage of the blockbuster art exhibitions currently showing in the city, including Grayson Perry: My Pretty Little Art Career at the Museum of Contemporary Art and Collette Dinnigan: Unlaced and Art of the Brick: DC Comics, both held at the Powerhouse Museum.
Want more?
Starting on 27 May 2016, Sydney's multi-award-winning Winter festival of light, music and ideas, Vivid Sydney, will light up the city for 23 nights through a dynamic program featuring spectacular light art, cutting-edge music, and a rich and diverse flow of ideas and creative events.
To rest your head:
Visitors travelling to Sydney to experience the booming arts scene can stay at QT Sydney, an edgy, inner-city hotel brimming with art, entertainment and style. Or, head to the re-developed Kensington Street precinct in artsy Chippendale, to stay at The Old Clare, a 62-room, boutique hotel set across two iconic, heritage-listed buildings.
Travel packages for Handa Opera on Sydney Harbour can now be booked through Qantas Holidays starting from $439 per person for 2 nights' accommodation and event tickets, and Virgin Australia Holidays from $557 per person for 2 nights' accommodation, return airfares and event tickets.
Visit www.sydney.com/art for more information on Sydney's art scene.