4 Killer Tips in Finding Cheap Accommodations Online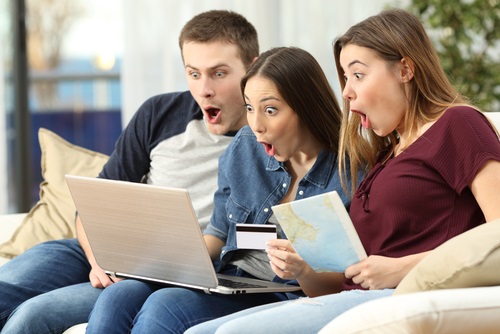 Traveling to other places needs a significant amount of money to make your stay comfortable and enjoyable. One of the most expensive parts of staying away from home is paying for your accommodation, which usually accounts for more than 50% of the expenses. However, sometimes, people need to save on food and transportation and compromise the quality of their experience to give way for lodging expenses. Online apps are indeed a go-to place for people who seek inexpensive accommodations.
If you're looking to find cheap accommodations online, the following points can surely help you find the most affordable rooms:
1. Compare and contrast prices on various websites.
Different sites offer diverse sets of accommodations with prices ranging from very cheap to very expensive. That's why it's important to compare and contrast prices on various websites. This step seems like a complicated process, but it won't be a hassle especially if you know where to look.
While other people still check out sites individually to differentiate costs, some websites such as Gumtree already do the searching of the lowest price for you with just a click of a button. You can rent a room on Gumtree according to your preferences. You just have to filter the results, such as price, dwelling type, and number of beds and bedrooms.
2. Do your research.
Some hotels and guesthouses drop their prices during particular seasons. However, low rates should not mean low quality and unenjoyable rooms. Researching the amenities provided by different accommodations can help you decide which one offers the most comfort and convenience.
To ensure that you'll be getting your money's worth, make a checklist of your ideal room must-haves before booking. The following necessities in a room can help you save money when you make your reservation:
Proper ventilation. Your temporary abode must enable you to relax and breathe comfortably; thus, it must have adequate ventilation facilities such as air conditioning, exhaust fan, and a window, at the very least. Some accommodations even have balconies or open areas to allow access to fresh air and sunlight.
Security. Of course, you will not have the luxury of time of keeping an eye on your possessions for a straight 24 hours while you're on a holiday. This calls for sufficient security facilities in the accommodation such as a lock in the door of your room, lockable closets or vaults, security personnel, and a CCTV camera in common areas. This way, you can save yourself of the worries of thinking about your belongings while you're relaxing.
Access to potable water. Most of the time, people spend the most on drinking water because, unfortunately, many accommodations do not provide such. An accessible source of drinking water is important to keep you hydrated and when you're taking medications.
Personal restroom. Your stay should also be a time for you to enjoy your private life; hence, you'll need a bathroom in your own space. Moreover, having a personal restroom will save you from the long lines in public restrooms, especially during those most unexpected moments when you need the loo. Keep in mind that your bathroom must have a working faucet, bathing equipment, a toilet, and its exhaust mechanisms.
Nearby food establishments, convenience stores, and indoor cafeteria. It is very inconvenient to walk for more than 15 minutes to get to the nearest restaurant or food establishment should your stomach grumble in hunger. Likewise, convenience stores can provide you with instant food within your reach.
It would also help to ask more details about the inclusions of the rooms directly through the customer assistance hotlines or e-mail addresses as indicated on the websites of the accommodation you're eyeing to book. Check also the location of your accommodation through online maps and see its proximity to laundry shops, food joints, medical services, and fitness gyms. Additionally, reading reviews online can give you firsthand insight on the facilities and services that these establishments offer.
3. Create a personal assistant.
Some websites and apps enable their users to add a notification feature when something important pops up on another site. You may maximize this feature to inform you through your laptop or mobile phone whenever there are discounts on accommodations or when there are promo codes or vouchers available for you to use. With the use of your tech assistant, you can quickly view any price drops and changes in your reservation.
4. Widen your reach; try something unique.
Hotel rooms must not be the end of your list of comfortable accommodations. If you're eyeing for something that is exquisite and cheap, add guesthouses, hostels, condominium units, and bed-and-breakfast establishments to your list of options. These facilities boast a warm and cozy feel as their unique selling proposition as opposed to the professional and luxurious ambiance of hotels.
Also, most underrated accommodations have indoor heritage decorations, souvenir shops, and mini-museums as their main attractions. Some also provide food from the local cuisine and delicacies.
Finding the cheapest rooms online may be a tedious task for a lot of reasons, but as long as you know the website to browse for some inexpensive accommodations, you can save a lot of effort and money, and you can dedicate your time to your preparation instead. A well-prepared trip could result in a huge amount of savings.