Patio Planning Guide – 5 Cosy Tips for Turning Your Outdoor Area into a Homey Haven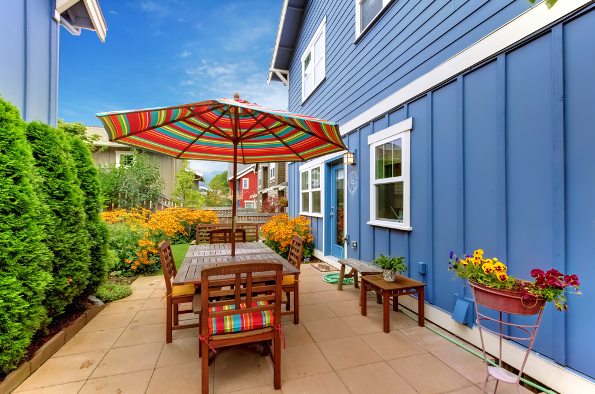 When you're lucky enough to live in a country as beautiful as Australia, you tend to spend a lot of time in the great outdoors. There's a good reason why Aussies are such eager hikers, campers, surfers, and explorers. It's not all about epic treks though, because some of the best adventures happen right in your backyard.
When you've got a carefully designed garden, with a comfy space for relaxing and entertaining, you don't need to travel far to meet with Mother Nature. She's in your family cookouts, afternoon picnics, and late evening wine parties. So, put some love into your patio and create an outdoor haven which is worthy of admiration.
This guide to transforming your outdoor space into a relaxing, peaceful retreat will give you some great design ideas.
Invest in a Patio Heater
One area where it is worth splashing the cash and treating yourself to something special is outdoor heating products. These days, patio heaters are highly efficient. Many are built with eco-friendly technology and low energy designs for maximum impact, with minimal consequences. Plus, they are slimline, with elegant frames, and can be installed even on awkwardly shaped patios.
Consider a Big Space
Not everybody wants to build a broad or wide patio, but it is a good idea if you like to entertain friends and eat in the garden. The larger the solid concrete, stone, or wooden surface, the more functions it can perform. So, for example, larger patios and decks are used as cookout areas, play spots, dining rooms, and spaces for relaxing. If you plan to keep your patio small, focus on your biggest need and build an outdoor retreat which caters to it.
Add Diffused Lighting
If you're using the space after dark, you're going to need reliable lighting.
Getting the right balance between practicality and aesthetic can be tricky though because bright spot and can lights sometimes seem too powerful. The secret is to combine brighter fixtures with softer, diffused ones. That way, you've got practical illumination in danger areas (around steps, for example) and soft, romantic light close to where you want to relax.
Plant Fragrant Herbs
When designing a garden, homeowners spend a lot of time picking out flowers and arranging them in flawless colour combinations. This takes care of the aesthetic part of the design, but what about the other senses? Smell, for example, is a big part of being outdoors, whether you're kicking back in the yard or wild camping. So, bring some fragrance to your little oasis by planting gorgeous smelling herbs and spices.
Pick Sturdy Furniture
You can afford to prioritise durability over comfort when it comes to garden furniture because it's really easy to add pillows and cushions. This is a better option than using daybeds or other permanent soft furnishings because they need to be brought indoors during bad weather. Aluminium is a good choice, as it doesn't corrode or rust upon contact with rain. Wood is also popular, but it needs to be periodically treated with a protectant.
Why Great Garden Design Is Simple and Affordable
You don't have to break the bank to create a beautiful, relaxing outdoor space.
In fact, if you invest in a couple of key pieces (like a patio heater and sturdy furniture), you'll get a substantial amount of value out of them. High-quality outdoor heaters are tough, weatherproof, and designed to last for many years. They are a must for comfortable, homey gardens.