Thala Beach Featured in Tourism Australia's Aquatic and Coastal Experiences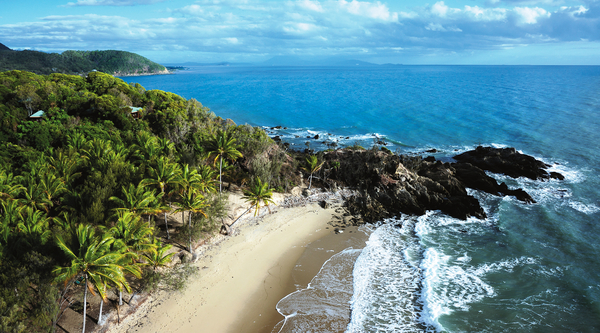 Thala Beach Nature Reserve is honoured to be included in Tourism Australia's latest promotional campaign which focus on Australia's world-class coastal and aquatic experiences. The latest instalment in Tourism Australia's There's Nothing like Australia campaign video features the voiceover of Australian actor Chris Hemsworth as a soothing accompaniment to some of Australia's most spectacular coastal scenery.
Thala is one of only three Queensland locations to be included in the campaign video (along with Vlassof Cay and the Whitsundays). Positioned 15 minutes south of tropical Port Douglas on a private-access beach, Thala's guests enjoy coastal nature-based experiences that align with Tourism Australia's global tourism campaign.
Film production crew spent two days filming at Thala to capture the eco retreat's coastal and aquatic features late last year. Latest technology virtual reality and 360 degree cameras were utilised during the film shoot.


Tourism Australia's Managing Director John O'Sullivan said that 70% of international visitors enjoy an aquatic or coastal experience as part of their trip to Australia.
'While Australia is known for its natural beauty, the world still doesn't have a full appreciation of the breadth, depth and quality of our aquatic and coastal experiences,' he said.
Family owned deluxe eco-retreat Thala Beach Nature Reserve is located on a prominent headland overlooking the Coral Sea 45 minutes north of Cairns International Airport. Thala's guests travel along one of Australia's most scenic coastal routes, the Great Barrier Reef Drive, which cuts a swathe between two UNESCO World Heritage sites. With its backdrop of forest-clad mountains to the west and the Coral Sea to the east Thala is perfectly positioned for access to the Great Barrier Reef and Wet Tropics rainforest. Advanced Ecotourism credentials and an enviable beachfront location mean that Thala appeals to travellers looking for a deluxe nature-based holiday.
Onsite Rangers conduct complimentary tours throughout Thala's 58 hectares of native forest where over 190 species of birds and 120 butterfly species have been recorded. Agile wallabies, sugar gliders and lace monitor lizards amongst other native wildlife, are in abundance. One wild wallaby, nicknamed Apple, charms guests as she makes unscheduled appearances hopping through Thala's open-sided lobby. This friendly wallaby even has her own hashtag (#applethewallaby) and has developed a following amongst guests and appearing in print and digital media across the globe.
Far from being an average Australian hotel, Thala's guests enjoy a privileged tropical coastal location while minimising their environmental footprint. It's no wonder Tourism Australia, which aims to 'capture what it feels like to experience being on, in or near the water' chose to include Thala Beach Nature Reserve.

View the campaign video at http://www.thalabeach.com.au/thala-beach-in-tourism-australia-coastal-aquatic-campaign/
5078 Capt Cook Hwy, Oak Beach, Port Douglas 4877 Australia