Sydney Harbour Lunch Kayak Tour by Life's An Adventure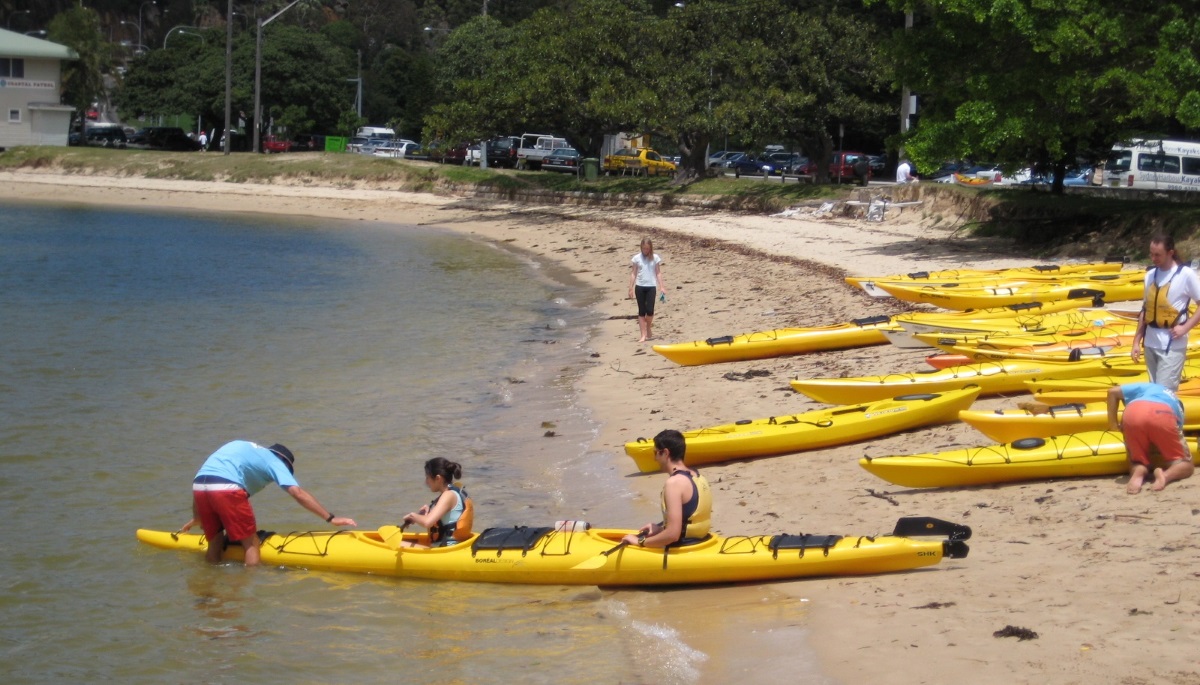 For those looking to kayak in Sydney this is the ultimate guided kayaking tour and one of the most beautiful paddles on Sydney Harbour. This award-winning kayaking tour is exclusive to Life's An Adventure.
With Sydney Harbour being fringed by many National Parks you won't believe the picturesque natural landscapes you will encounter along the way and the abundant bird and marine life which inhabit this area. We'll explore beautiful coves and beaches and you'll learn the history of this fascinating region.as we paddle from Rose Bay via Shark Island to Vaucluse and back.
The highlight of the day on your kayak tour in Sydney, we'll stop for a delicious picnic lunch at beautiful Shark Island. This beautiful island is only accessible by private boat and is situated in the centre of the harbour, providing fantastic photo opportunities of the Sydney Harbour Bridge and Sydney Opera House. Your delicious picnic lunch will include fresh prawns or smoked salmon, ham, fresh salads, refreshments and much more.
This fantastic Kayaking Tour on Sydney Harbour is around four hours duration including kayak tuition, paddling and lunch break. This is a fully guided kayak tour by our professional guide. Kayaks are state-of-the-art tandem dagger sea kayaks which are extremely stable in the water and very difficult to capsize. Suitable for beginners or advanced kayakers.
Note: Route may change subject to wind conditions on the day.
This Kayak Tour on Sydney Harbour is exclusive to Life's An Adventure. What a day, what an adventure!

What to bring:     To ensure you keep well hydrated, please bring at least 2 litres of drinking water. We also recommend a hat and sunscreen and if you want to enjoy the beach, bring your swimming costume and a towel. A PFD life jacket will be provided for you. It's a good idea to bring a towel and change of clothes for after the kayak.
What to wear:    
You will get wet when kayaking from the paddle splash as well as getting wet feet as you get in and out of the kayak. Please wear comfortable lightweight clothes (no jeans), wear a hat and crocs or shoes which can get wet. Bring your swimming costume if you would like to enjoy a swim. Bring a lightweight wet weather jacket in case of rain.
Winter Paddles:  
We run kayaking tours all year round. We will provide you with spray skirts which keep you warm and stop you getting wet from paddle splash. Please wear a wet weather jacket to keep you warm and dry on top.
Life's An Adventure acknowledge the Cadigal Nations as the traditional owners of the inner Sydney region.
Tour Availability:
Available daily subject to availability and minimum numbers.

Important: While we always endeavour to take you on your preferred date, if we don't have minimum numbers on the day we will call you to reschedule, or where another date is not possible refund your booking in full. Please assist us by adding other possible booking dates in the section provided on your booking form.

If you are a solo traveller please email us for availability before booking,

For bookings less than 48 hours please call us on (02) 9975 4553 to book or email: enquiries@lifesanadventure.com.au

---

Inclusions:
Dedicated guide, kayak tuition, a picnic lunch, kayak & PFD (lifevest) hire

---

Duration:
10.30am to 2:30pm.
Note: You must be there at 10.30am sharp or run the risk of being left behind.

---

Kayak Tour Prices:

Special Saturday Discount Price:
Adult $125 per person. Child 8- 16yrs $85.
Private tours (1-5 people); $860

All other days
Adult: $145 per person. Child 8 -16yrs: $105 per person.
Private tour (1-5 people): $1260

Children must be accompanied by an adult.
Prices are per person in Australian dollars and include GST.
A 1.5% booking fee applies to all bookings
Enquire for group rates for larger groups of 6 people or more.

---

Fitness level:
This is a 4 hour kayak tour on Sydney Harbour, including kayak tuition, paddling and lunch break, suitable for all persons with average fitness from beginners to advanced.
Please note: the guides will ask guests to help participate in lifting the kayaks on and off the kayak trailer at the start and finish of the tour.

---

Meeting Point:

Meet at 10.30am on the beach front at Point Piper Rose Bay, corner of Wunulla and New South Head Road (below Rose Bay Police station). Access to the beach front via this slip road just off of the corner on New South Head Road or the Starcase near Point Piper Marina. 

Busses 323, 324 and 325 all stop at bus stop at the New South Head Rd Near Wanulla Rd (Stop ID: 202725).

Alternatively taxis from the CBD cost $15 to $20. Please note ferries do not operate on weekends.

Please meet at 10.30am sharp!! - all kayakers must hear the kayak briefing before being allowed to paddle. The group cannot wait for latecomers and you may be turned away.

Limited metered parking is available  in the surrounding streets.

Any queries you still have please email enquiries@lifesanadventure.com.au or phone (02) 9913 8939.