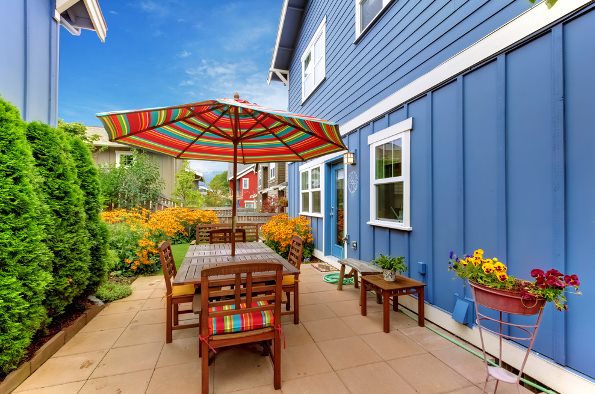 Everybody loves a great garden. When utilised properly, those outdoor areas can bring the whole property life. All homeowners have that desire to create stunning results, but knowing how to do it is another challenge altogether.
It doesn't need to be as difficult as you might think. Here are five top tricks to inject standout luxury to your garden.
Get Gardening
The clue is in the title; the best gardens are those that boast the beauty of nature. Ultimately, if you want yours to stand out from the crowd, you must get those aesthetic features perfected.
Planting a few flower beds will transform the entire look of your outdoors space. Meanwhile, you can make the garden work even harder by growing fruit and vegetables. You'll be improving the garden and working towards a greener home. Just think of all that tasty food too.
Build A Summerhouse
Enjoying the fresh outdoors and sun sitting on sun lounger is always great, but building a summerhouse will truly take your love of the garden to another level. You can use it for hosting parties or doing activities deemed unsuitable for inside the house. The possibilities are only limited by your imagination.
Building this structure yourself will save a lot of money. However, you need to appreciate that it will need to battle the elements. Opting for the best materials that will stand the test of time is vital. Likewise, water proof adhesives are a must. Just remember, if you will be storing valuables inside, great security features are non-negotiable.
Paint The Property
Perfecting the garden itself is one thing, but you also need to consider your time out there. Let's face it; the whole atmosphere will be ruined if your faced by an ugly looking property.
A few coats of paint will soon solve that problem. Again, this is a job that can easily be completed by any DIY enthusiast. A little effort goes a long way, and it won't just improve garden time. The outside of your property is what you see each time you approach it. The fresh appearance will leave you smiling every single time.
Make A Splash
If you asked 100 people to pick an item that symbolises garden luxury, at least 95 would say a swimming pool. Installing one will make you the envy of your neighbors. Digging a hole in the garden doesn't have to dig a hole in your pockets, either; not if you're creative.
Building a swimming pool can cost an arm and a leg. But turning a storage container into a pool can cut those costs down to size. There are plenty of other options available, the key is to keep your mind open to good opportunities. Aside from the benefits of having pool, the unique nature will add excitement too. If you want to make a splash, there is no greater option.
Maintain The Beauty
Creating the perfect garden is easy; maintaining it is difficult. Most of us live busy lives, so taking little shortcuts is crucial. Artificial lawns and similar ideas will ensure that your garden retains its beauty without costing you hours of your free time.
Ahh, there's nothing like knowing you can enjoy the space forever.