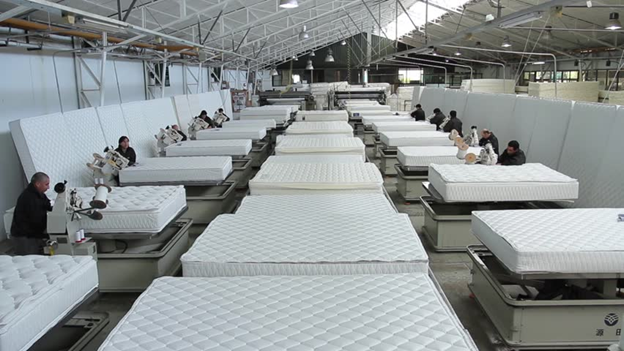 For starters, a mattress is one of the most critical investments in a lifetime. We spend a third of our lives sleeping. It is with a good mattress that you get to rest to regain your energy for the following day. Traditionally,mattress buying involved visiting the store and picking the mattress that you like. In recent days, mattress buying is evolving, and accordingly, people are turning to the internet.
The market is flooding with thousands of mattresses brands and getting the right one for you can be challenging. While most of the mattress manufacturing companies prefer to sell their mattresses online others are still dedicated to allowing their customers to get them from their stores directly.
About Original Mattress factory
The Original Mattress factory is one of the oldest mattress building companies. It has a long history of mattress making dating back to the 20th century. Its headquarters are at Cleveland and is still using the so-called traditional way with a touch of an online platformto sell and deliver mattresses to its customers from their stores and factories
The selling and buying process insists on eliminating the middle man who tends to hike prices to make a profit. Mattresses are built in their 11 factories and over 100 showrooms all over the country. Sales are made from the local factories and stores, and delivery is made right to your doorstep straight from the factory.
The factory has a fully factional website platform where customers can get acquainted with the various products, buy them and have them delivered from the source at the comfort of your home.


Let's look at the 5 different lines of mattresses.


Classic line
Classic line mattresses come in four choices namely classic, classic luxury firm, classic plush and classic Euro top. The first three mattresses are topped on both sides enhancing support and not to mention that they can be flipped. The classic Euro top is padded only on one side, and it's not to be flipped. All these innerspring mattresses topped with foam padding offer excellent support and durability.
A 13 –Gauged knotted Bonnelcoil with 5 turns and 6 gauge border rod makes the inner spring. Other materials include convoluted polyurethane foam topper, Super soft polyurethane foam topper blended cotton which has insulation pads and artificial fiber pads with FR inner liner and quilted panels that are classically interconnected to make a comfortable layer.The mattresses have athickness of 8 to 10.5 inches.


Pros
Comes with a lot of options on the firmness

Relatively thick
Cons
Regency line.
The Regency line has more comfortable features in its mattresses compared to the classic line. It has two models of Regency Sapphire with a thickness of 10 inches, and the Regency Sapphire Euro top is 11 inches thick.
The Euro top material is most favored because it has twice as much cotton padding and foam making it more plush. Though it is soft people have complained that it is not very firm hence not providing much-needed support to avoid back pains.
The Regency Sapphire has an enriched offset innerspring system with handles that makes flipping between sides easy. It is also double sided meaning that you can use both sides comfortably. The wood box spring in the design boosts the support system. Although it is not fitted with insulator Pad, it is an equally firm mattress. It comes with a skid-resistant cover that protects your bed from damage.


Pros
Right blend of comfort layers.

Has Eurotop that is thicker.
Cons
Not many firmness options.
Orthopedic line.
The Orthopedic line is closely similar to the classic And Regency line. There are multiple mattresses with different size, durable material and high density. Picky sleepers will find this feature more useful. For this reason, it is good to look at all the models closely to determine which suits you best.
The eight models available include, Orthopedic Adjustable, Orthopedic Ultra Firm Orthopedic Pillow Top, Orthopedic Premier Super Pillow, Top Orthopedic Extra Firm, Ultra Plush, Orthopedic Luxury Firm and Orthopedic Euro Top. Each of these mattresses is made up of a well interconnected innerspring system making it more comfortable.


Pros
Has multiple options

Well-connected innerspring
Cons
Users complained of low durability.


Serenity line
The serenity line comes with firm, soft and medium features in its two mattresses. The Serenity Plush is well known for its unique comfort. It features high-density memory foam and latex foam that enhances support and durability. Mattresses come in different sizes and are one-sided with distinct layering. It has a density of 10.5 inches.
Serenity latex mattresses have additional wiring to the fourfold torson sections that provide extra comfort.To ensure it remains shocked absorbent there is an addition of wood slat. There are various sizes for this mattress, and It has a thickness of 10.5 inches.


Pros
Higher density

Variety of mattresses to choose from.

Comfortable
Cons
Cannot be flipped and one-sided

Latex Foams.
There are two mattresses in this series. Latex mattresses are more dense and heavier and provide stability especially for the heavyweight sleeper. These mattresses are natural, and Ellery free since latex is derived from trees. They are very comfortable since latex tends to bounce back.
The Latex Foam and latex supreme foam are both built of the good-quality Talalay latex foam that form part of this series. They come two sided for additional comfort and can be flipped on both sides depending on the user. The latex supreme has a density of 12.5 inches while the latex foam is 9 inches thick.


Pros
High density.

High-quality latex materials

Are two-sided
Cons
Comes in only two options.

Conclusion.
There are lots of choices at Original mattresses factory and stores. You are likely to find exactly what you are looking for.The Mattresses Company is unique since it has created its own network of customers who buy directly from their stores and can also have them delivered. It has built many durable and quality mattresses over the years although some users have complained of low durability of some of their mattresses.