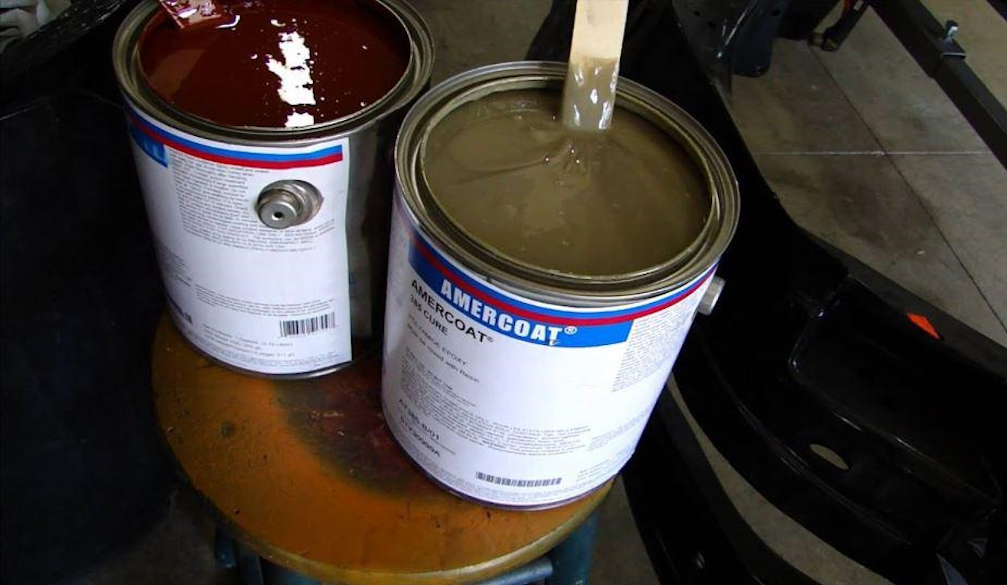 Australia's weather poses a great threat to buildings and the paints are chipped off and similar is the case with all other metals. As the air is either humid or hot, then in such instances the protective coating on steel surfaces comes in the form of epoxy paint. This is an advanced painting technique that offers shields and avoids damage to steel surfaces. If you are wondering about the option of steel painting and considering epoxy paintings then let us stay connected till the end of this blog and you would be able to discover the understating benefits and where these epoxy paints would be applicable. Excited to start your educational journey?

Composition of Epoxy Paints
The thermosetting polymer coating on steel surfaces is when applied by any respective means this offers an adherent tough and consistent coating to the surface. It has a mix of epoxy resins and other protective curing agents. These components form the bond with the steel surface. Such application of epoxy paint for steel makes the surfaces of the steel aesthetic beautiful and coatings last longer. The base and hardener are the main focal components of the epoxy paints. Hence, the balances are properly proportioned. When the reaction between these added components takes place, the formation of plastic like a very rigid surface adheres to the steel. This all sticks grimly with the steel surface.

Advantages of Epoxy Paint Application

Corrosion Prevention: The first advantage of application is this avoids corrosion as in no wear and tear. The epoxy paints offer tough shields and this lessens the damage done by the environment. this way the life of steel and maintenance costs are notably reduced.

Chemical Resistance: those surfaces that have a coating of epoxy paints have resistance towards different harsh chemicals. What does it show? yes! that these paints can be proved an excellent choice for the steel surfaces in industrial areas. If in the industry, then all acids, alkaline, solvents and other damaging agents can no longer damage the surfaces.

Durability and Appeal: Epoxy paint for steel when applied on surfaces can withstand harsh weather. Even if the outside weather is harsh and air is humid, it can stand out best and can last longer. Keep in mind this is one of the best for industrial flooring and for another wider range of stuff. Quality and visual appeal are way too best. This is best for industrial uses as well as architectural archives. It is easiest to apply. With its self-levelling properties, this epoxy paint for steel offers a very smooth finish. However, if you are looking for options to apply then use brushes, spray equipment, rollers and other flexible applications.

Fast Alleviating Time: These paints do not take much longer to cure as compared to other paints. It is very helpful and handy in all such those projects where you need minimal effort, long lasting best results and minimal cost then do consider doing this painting with less application time. It dries fast and offers a tough thicker barrier.

Applications of Epoxy Paint on Steel
The epoxy paint can be applied on

Industrial Equipment

Flooring Systems Applications of Epoxy Paint on Steel

The epoxy paint can be applied on

Industrial Equipment

Flooring Systems

Structural Steel

Pipelines and Tanks

Few application guidelines will be helpful:

Surface Prep: Firstly, you need to prepare the surface before application of epoxy paint for steel. Clean the surface with anything to avoid any kind of dust, grease, contamination etc. the presence of anything on the surface will not allow for proper optimal adhesion.

Environmental Factors: Application of epoxy paints gets affected by humid weather and temperature. It is advised that before starting anything for paints, always check the weather and conditions.

Professional Application: DIY experts can better apply epoxy paints to steel. It is still best to get in contact with those people who are professional in it and those who better understand its balancing mixing rations and hence follow their advice.
These points are best and economical for less effort and better usage. Just keep all considerations in mind and get maximum benefits from it.
.