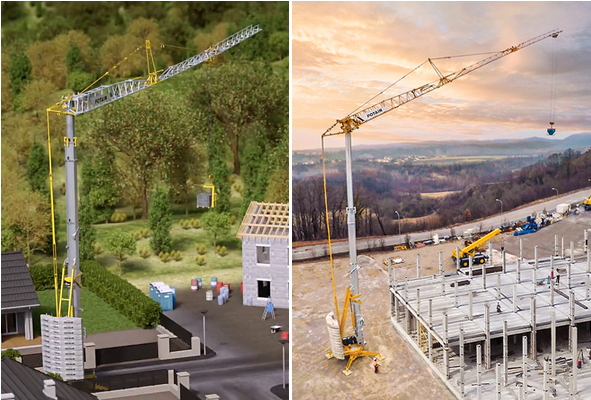 If you are torn between buying or renting a crane, there are some serious considerations you need to take into account. To help you make the right decision, read on for five reasons why renting self-erecting cranes from a reputable crane supplier is a good option.


1. It is cost-effective
When working on a construction project, it is crucial that you keep costs at the forefront of every decision. By opting to work with a crane supplier in Melbourne (or wherever you are located), you are making the most cost-effective decision. This type of machinery is expensive, and it doesn't always make sense to purchase your own.
Generally, for the best ROI, the right option is to rent a crane. After all, every construction project is different, which means that each may require distinct equipment. Choosing to rent your cranes provides you with more flexibility because you can always ensure you have the right equipment for the project. You also have a more comprehensive selection of cranes to choose from, and you have access to modern cranes with the latest features. Plus, you don't have to worry about transportation costs if you hire one instead.


2. It is safe
In addition to the budget, you must also prioritize the safety of site workers and the general public. Never go for a cheap crane option if it is going to put people at risk. By working with a top crane rental company, you can be sure that the appropriate performance maintenance and safety inspections are conducted periodically.
When it comes to safety inspections, make sure you get the results for controls and operating mechanisms; lines, tanks, and valves; parts in the air or hydraulic systems; hooks; chains and end connections; and the boom and crane structure. Never sign a contract without getting the results of the inspection, as this is how you can protect your investment and the safety of your job site.


3. It is reliable
When considering a crane hire company, make sure to conduct thorough research concerning the quality and reliability of their cranes. You want to make sure that you are working with a company that prides itself on consistently inspecting and upgrading their equipment, as these are the companies with the most reliable offerings.
Keep in mind that not having to worry about any maintenance expenses is one of the most significant benefits of renting a crane. The other option, buying a crane, means that you will be responsible for all costs for maintenance, repairs, and inspections.


4. It is insured
Furthermore, before signing any paperwork, make sure to discuss the level of protection you are granted from the crane hire company's warranties and insurance. One of the significant benefits of renting a crane is that you don't have to worry about having the right type of insurance coverage on the crane, for your operators, and for each job where the crane is used. Instead, the insurance required is based on the type of projects/jobs to be performed.
A construction site is predisposed to risk and the possibility of unexpected accidents occurring, and these can be devastating when heavy equipment is involved. To reduce the likelihood of this happening, you want to ensure that your equipment is reliable and that you are covered with the required insurance. Therefore, always verify that the insurance coverage provided satisfies the specifications of your project reach.


5. It reduces the stress of finding ways to maximize crane use
When you buy a crane, you are not only responsible for all the costs of maintenance, repair, inspection, and insurance coverage. You also need to set a budget for the training, certification and licensing of all your crane operators.
Buying a crane also requires a long-term capital investment. However, just like any other equipment, your crane can become outdated quickly. This, then, means there's the possibility of it having limited capabilities (compared to the newest models, of course) as you won't be able to utilize the latest features.
More than just that, when you own a crane, you also have to know what to do with it when it isn't in use. Usually, this means paying for storage costs, as well as funding transportation costs from one job to the next.
On the other hand, when you rent a crane, you don't have to worry about your equipment depreciating, and you have minimal to no storage costs. You also don't have to deal with the hassle of trying to find buyers or renters for your used crane.
When deciding whether or not to rent a crane, reach out to crane rental companies to ask for a free price quotation. Armed with this knowledge, you can search for the right option for your project requirements and budget.
Do you prefer to rent or buy a crane? Why?
Let us know your thoughts and any relevant experiences in the comments below!


AUTHOR BIO
Hermann Buchberger is the Founder and CEO of Active Crane Hire (ACH). He's taken the company from start-up to Industry Leader offering the largest fleet of construction cranes in Australia. ACH launched a new type of crane previously unheard of in the Australian market: electric tower cranes. The company's infrastructure and associated services now comprise a fleet of trucks and trailers, a crane-rigging team, mobile crane technicians, a fleet of service vehicles, and an extensive range of crane spare parts.