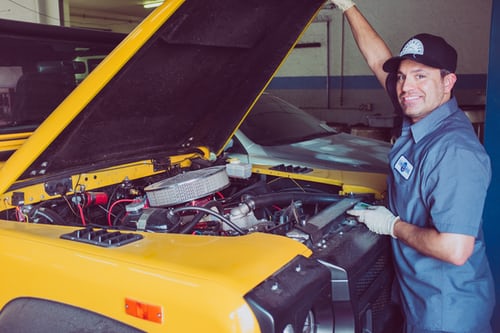 Regular maintenance of your personal vehicle is both an obligation of any car owner and a thing of common sense. After all, a malfunctioning vehicle is a risk for you and your entire family. Not just that, it's something that puts other traffic participants in danger. Moreover, a car that is not in its best shape is a gaping hole in your budget. A cheap and inexpensive fix can grow into an expensive repair or part replacement. Other than this, the state of your car affects the fuel efficiency in more than one way. To avoid all of these problems, here are five things you should regularly check on your car.
Tire pressure
The main reason why this is such a priority is due to the fact that it directly affects both the safety and fuel efficiency of your car. First of all, properly inflated tires are responsible for the control that you have over the vehicle, as well as the traction between your vehicle and the road. Moreover, if tires are properly inflated, your car will optimize its fuel consumption, which is great for your budget. The most important thing worth keeping in mind is the fact that it takes several minutes to check all four of your tires. Moreover, you can visually inspect them, from time to time and see if there's one tire that seems particularly troublesome.
Brakes
Checking your brakes is the best way to ensure that you have full control of the vehicle and that you can avoid a collision if there's the need for such a thing. Sure, you can wait for the pads to start screeching, however, this is neither smart nor safe. Think about it, if there's one thing that you don't want to fail, it's the brakes. Why? Well, because the only time that you're pushing them to their limits is in an (otherwise imminent) collision scenario.
Engine
Different engine parts are crucial for the functioning of your vehicle. Same as with other parts, this also determines your fuel and oil economy. One thing that a lot of people avoid inspecting is the radiator. Why? Well, because a lot of people don't have a tendency to check it when it is cold but only do so when it already starts misbehaving. Doing this correctly and safely is something that a lot of people are unfamiliar with. It needs to be done with extra care. Also, if a radiator needs a replacement, it's for the best to do so right away. Browse online platform like Carparts2u by selecting the model and category of your vehicle, in order to ensure that you've gotten the part you need.
Oil
Checking your car's oil is one of the simplest things to do when it comes to car maintenance. The majority of guides recommend that you need to check it anywhere between 3,000 and 5,000 miles but a lot of modern cars can travel as much as 10,000 miles without oil changes. The only way to know is to check it on a regular basis. Now, keep in mind that a lot of cars have some sort of indicator or a monitoring system. You can even check your oil once per week, seeing as how it takes several minutes to do so.
The lights
In a lot of countries, the lights need to be on while the vehicle is participating in traffic, regardless of the time of day or the overall visibility on the road. During the evening hours, it is mandatory that all of your lights are fully functional. A single light out may convince a person heading from the opposite direction that they are facing a motorcycle when they are, indeed, facing a four-wheeler. This alone may lead to some lapses of judgment that may have a fatal outcome. Fog lights can have a similar effect, which is why they need to be fully functional at all times.
Finally, you need to develop a habit of regularly checking your vehicle and find reliable suppliers and mechanics to help you in these efforts. Only this way can you keep your assets and your family safe.