Lisa Curry KiSS 10 Week Weight Loss Program
Sustainable weight-loss for life

Lisa Curry Kiss 10 week


Lisa Curry, Australia's renown and much loved sporting hero brings you… the KiSS Program, a ten-week progressive fitness, weight-loss and well-being program. The KISS formula works on the fundamental knowledge that small steps over a consistent period will produce results.



About the program


"As a medal-winning athlete I learnt early on that success was simply the culmination of small achievements I made everyday. It was the habits that I formed that allowed me to achieve as an athlete and later in life as a mother and business woman.

Now it is my goal to share the simple truths about health, fitness and habits with you - busy men and women who have a desire to be the best version of themselves and take back control of their health and happiness.



Inspired by experience


For Australians

The program was born out of years of research and observation as an athlete, a mother, coach, personal trainer and defibrillator recipient. I have only included the most transformative information that when applied will give you amazing results in the quickest time possible."



Questions about Kiss 10 Week Weight Loss


Are there weekly weigh-ins, do we record food & exercise?

There is a KiSS workbook for you to print and fill in at week 1,5, 10 and 20. Here you can log your measurements, weight, feelings and include your before and after pictures. As most people are losing between 6 – 12 kilos in 10 weeks, as much as they may not have liked taking their "before" pictures, they are so happy to see their "after" pictures….the new YOU! Hooray.

There is a nutrition log to print and fill in to put on your fridge. You will be able to tick the meals as you follow the plan. The idea is to have lots of ticks on your page!! You will find this in each weeks eating plan.



Lisa's Video



Testimonials


Hi Lisa

I finished my 10 weeks of K1 today and I would again like to thank you for helping me get my life back. I have lost 18.2kg and a total of 95.5cm, 21.5cm of that from around my waist.

In the 10 weeks I have learnt how to eat really healthy and make the right choices in difficult situations and there have been plenty of those. The exercise programme has been the biggest surprise for me and as I had said in week 5 I have never been able to train like this. I have definitely pushed myself, but the results have far outweighed the pain.

When I started my Hip to Waist ratio was 1.04 (high health risk) its now .90 (low health risk). Between you and my gorgeous wife Hayley's support I had no choice but to succeed.

I have signed up for K2 and I have a goal of having a six pack by my 40th in May next year (the abs kind). I have attached my before and after photos and although the one from 10 weeks ago is a disgrace, I am good with you sharing them with the KISS family as motivation.

Thanks again Lisa and I'll update you again in another 10 weeks.

Aaron Martin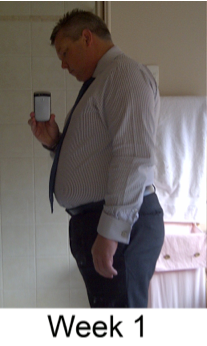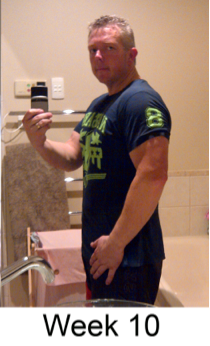 Check out Kath's Amazing Progress
My 'before' photos are very confronting.......never again will I let myself get like that, you have given me the self belief and the knowledge to stay on track and to live each day with purpose and also discipline. I have now lost 8kgs and am starting to feel like me again........ Lots of love and heaps of thanks my friend you really are a gem. xxxxxxx
Update: I have lost 16 kilos over the last 12 months training with you. How good is that?! I have a tear in my eye it's been quite a journey. Thank you so much Lisa Curry from the bottom of my heart, you are my inspiration every day, you really have been a lifesaver in so many ways. Love you. xxx
Kath S.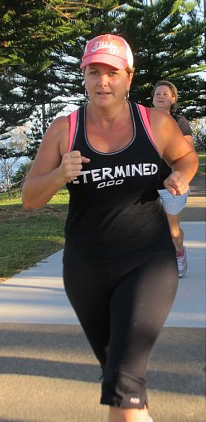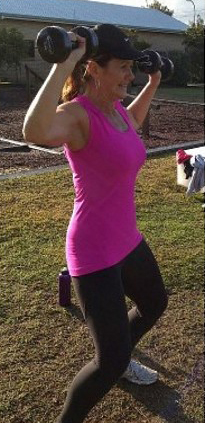 Find out more



FAQ's


Does your 10 wk program cater for people who cannot eat certain foods. I cannot have dairy & wheat and pretty much anything processed, due to stomach problems?
This eating plan will be perfect for you as there is very little dairy and wheat. Any wheat products you can substitute for gluten free.
I have small children, and don't have time to go to the gym, what can I do?
This program is perfect for you as it can all be done from home while kids are sleeping or playing. They can even join in with you for some of it, or count up to 10 for you! Time is important for busy mums, I understand this, and it's one of the reasons why I wrote time efficient exercise workouts that burn maximum calories in minimum time.


I really need help with my 11 yo daughter, she is overweight and it's breaking my heart. Obesity is an issue in my family. I love my baby, can your program help children?

This program can definitely help kids too. Australia has an obesity problem affecting children as well as adults. The eating plan consists of clean, simple, real, healthy foods. Any foods kids don't like can be substituted for foods they do like from the Nutrition Guide. Busy or active teenagers may need to double breakfast and lunch for the extra energy. You can also add brown rice, wholemeal wraps and grain breads for school lunch boxes.

Make sure you take your children outside to play. Ride a bike with them, play ball, take them to run in a park or the beach. Kids love playing with parents and it's great for your own relaxation, even if you've had a big day at work! Once you are out the door, you will enjoy it. Getting out the door is the hardest part!