Jeff Grochowski of Accrue Real Estate delivers property acquisition services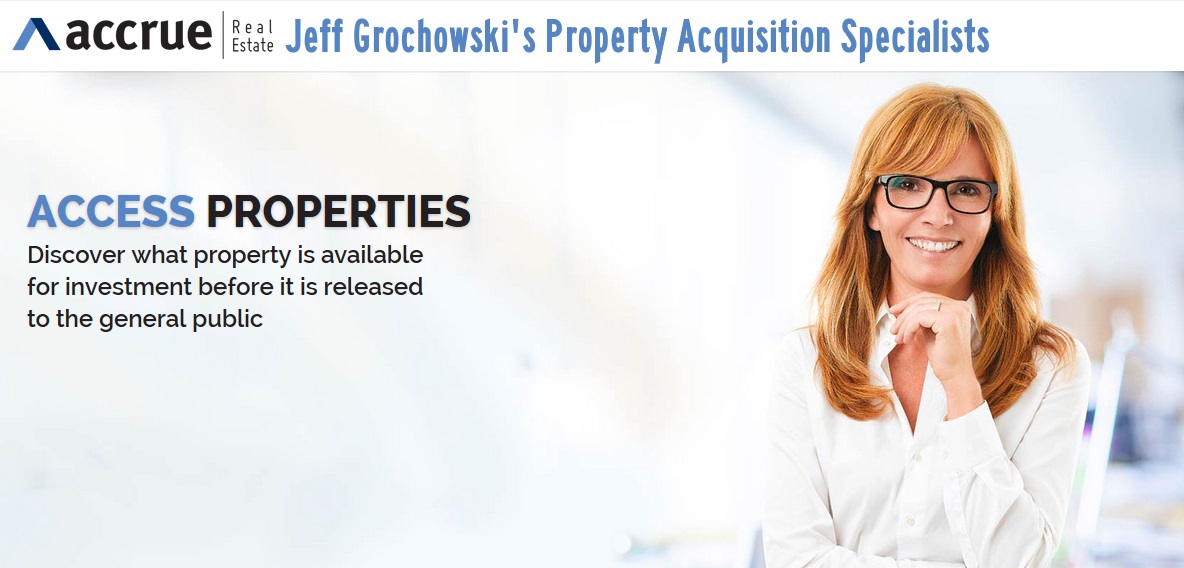 People looking to buy investment property in Melbourne have an opportunity to seek expert advice on what rental properties are on the market.
The federal Treasurer, Scott Morrison said today, that 30% of Australians rent their homes. That is a huge number people who will at some time look to find a new investment property to rent.
Jeff Grochowski has a service that offers help to people who have made up their mind to set out on the hunt for a new apartment or unit to accommodate those 7,200,000 renters.
For a one time membership fee, Jeff and his staff walk buyers through the process of finding a property in Melbourne that best suits their needs in terms of size, location, price and potential future capital gains.
Jeff's expert knowledge extends to what streets in a suburb have a higher than average chance of creating higher capital return and gains than those nearby. Buying in the wrong street can have long term consequences in terms of return. Access to insider property knowledge results in better choices.
Members of Accrue Real Estate are introduced to a select group of property specialists including, accountants, solicitors and valuers who offer their expertise to buyers as a part of the package of services offered by Accrue Real Estate.
Some property investors choose to attend property auctions or to deal with one or two agents in their property hunt but with the availability of a personal property acquisition service, buyers can look at a far wider range of options. Choosing to use a real estate agent who works for buyers is often more beneficial than relying blindly of an agent who has a legal obligation to look after the vendor.
Indeed, many properties that are being developed in Melbourne and its suburbs are not visible in a suburban real estate agent's window or on Realestate.com.au. There is an underground property market where developers offer their new stock to selected property consultants, such as Jeff Grochowski. Jeff and his team of property specialists place the property with people who use his services, often on the day that planning approval is issued. It is that first option access to the newest property that assists Jeff's clients to maximise their buying opportunity.
For property investors, access to a team of property specialists is a wise investment. The laws touching on property ownership including tenant rights, taxation law, town planning and finance change frequently so the best real estate agents are those who keep up to date. This week the NSW government foreshadowed some changes to planning laws. While these changes are in NSW, they reflect the fact that nothing is static in property.
Change is a creator of opportunity. The best agents know what is coming and have adapted.
Here are the proposed changes in NSW outlined by Helen Hull of REINSW.
The long awaited overhaul of NSW strata title laws moved one step closer with two bills introduced to parliament earlier this week.
REINSW President Malcolm Gunning said strata law reform was essential due to the growing popularity of apartment living.
"With apartment living considered almost as attractive as freestanding homes it is important to simplify strata laws to make them easier to understand, while at the same time recognise our existing and future requirements," Mr Gunning said.
"After considerable consultation from industry, the public and interest groups we are very pleased to see that these matters will be addressed. With some two million people living or working in more than 75,000 strata schemes across NSW these reforms are of the utmost importance," Mr Gunning said.
Minister for Innovation and Better Regulation Victor Dominello introduced the Strata Scheme Management Bill and Strata Scheme Development Bill, which will be debated until the end of October.
On 1 July 1961 the world's first strata scheme was registered in New South Wales.
Find out what is happening in the Victorian property development industry by contacting Jeff Grochowski

Produced by www.MultiViw.com