What is Laser Dentistry and What Can It Do?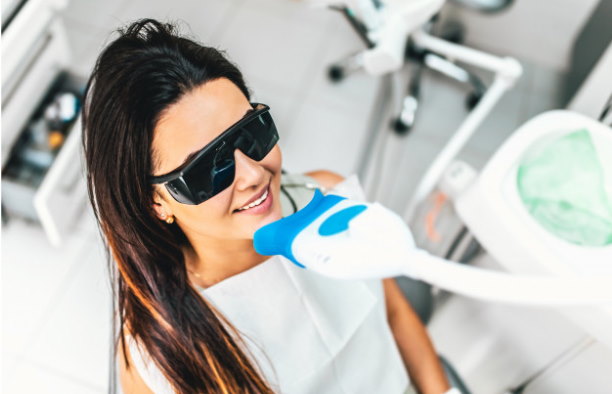 You may have heard of laser dentistry and wondered what it was for. In a nutshell, it is the use of lasers in the practice of dentistry. It is used for a lot of different things and can be used to help treat a plethora of dental issues. In short, it is a new way for dentists to help patients with their dental problems.
The
use of lasers in dentistry
is relatively new but it is not that rare. A lot of dentists nowadays have seen what lasers can do for their craft and have employed laser tools in their practice to help their patients more. Dental lasers can be used in many different ways, and here are some of these uses:
* Detecting cavities – This is considered one of the more painless ways of finding tooth decay before it worsens. The laser is used to check a tooth for signs of decay. If there is a change in the laser's wavelength as it travels across a tooth, it can indicate that there is decay there.
* Preparing teeth for fillings – When you need to have fillings added to your tooth, the use of a laser to kill bacteria there makes the process easier to do and can help it go faster. It also helps eliminate the need for anaesthesia that needs to be injected into the affected area.
* For reducing teeth sensitivity – When you have sensitive teeth, it basically means you have hypersensitive tubules in the root of your teeth. Using a laser to seal these tubules will help get rid of the tingling sensation you feel on your teeth and gums when you eat something hot or cold.
*Reshaping gums and teeth – This can be done prior to other procedures that require the shaping of these parts of your mouth. These include the addition of crowns, veneers, and other similar aesthetic additions.
* Reshaping gums for a better smile – Dental lasers can also be used to reshape your gums to make them look better. This is a great procedure for those who have a "gummy" smile and who want to reduce the size of their gums in relation to the amount of teeth that is exposed.
* Treating cold sores – Dental lasers can also be used to treat cold sores. These can expedite the healing process, essentially cauterizing the sore, reducing pain and the amount of time you have to suffer from such a problem.
* Teeth whitening – Lasers are also used to expedite the whitening process when it comes to teeth whitening. The bleaching process is sped up by the use of lasers specifically made for such a purpose. It has also been noted that lasers have been used to help with TMJ, remove benign tumors in the mouth and cheeks, regenerate damaged vessels and nerves, and even help with sleep apnea treatments.
Types of Lasers Used in Dentistry
Not all lasers are made in the same way. Some are more powerful than others and can cut through teeth. Others are not as strong but can help with certain cosmetic procedures. The two different kinds of lasers that are used in dentistry are the soft tissue and hard tissue lasers.
These two different types of lasers are used for different procedures. Hard tissue lasers are used for cutting teeth to shape them for bonding, for repairing dental fillings, and for reshaping tooth structure. Soft tissue lasers, on the other hand, are used to kill bacteria and to seal nerve endings as well as to stimulate tissue regrowth. These lasers are also used to expedite healing and to perform oral surgery without the need for anaesthesia.