10 INDOOR PLANTS THAT CAN IMPROVE YOUR WORK ENVIRONMENT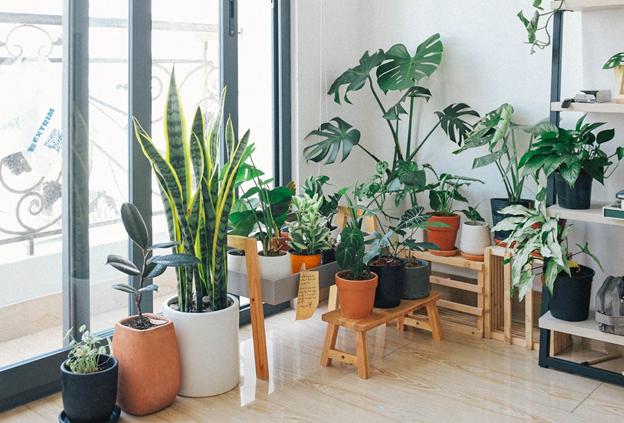 The fast-paced professional life doesn't cough up much breathing space. Amidst all the activities and responsibilities, it becomes tough to get a dose of anything that might lighten your mood or make you relax. Most people fall prey to stress, depression, and become sleep-deprived while attempting to keep up with their work.
Stress and being preoccupied is a customary element to work-life. Researchers have concluded that offices are challenging environments and can potentially affect employees' mental health. The statistical data available on this subject has been utilized by many large scale companies and corporations to modify their workplaces. The aim is to present a healthier, much livelier environment that can allow maximum productivity from employees for the longest possible time.
An example is the office of YouTube where employees slide down between floors instead of using elevators. It is a more cost-effective method and exposes people to the playful nature of their work while being invested in it.
While these ideas seem fun and interesting, they are equally expensive. If you don't own a multinational with a million dollar turnover, maintaining such a workplace can be a tedious task. Fortunately, it isn't the only solution that can solve this problem. There is a natural, equally effective method that ensures better work results and may not even be too hard to implement – plants! Plants do more than we can give them credit for in our everyday lives.
The oxygen supply is just one of the reasons to be grateful to them. Besides this, plants are living things and promote a sense of togetherness. They decorate your dull office environments by adding color and life to them. Most people even release their stress by talking to their plants and consider it an effective form of therapy. Hence, making them worthy of securing corners in your offices.
You don't need to be a botanist if plants are the option that you have opted for. You just need to know the major details and you are good to go. As a rule of thumb, it shouldn't be a surprise that they require a certain degree of care and maintenance. There are online companies that don't just help you in deciding which plants to keep around but also helps to decorate and managing them. For instance, offices in Sydney looking for the best indoor office plants setup can easily get a quotation and free advisory services online.
However, if you still feel like you need some homework, here is a list of the best 10 plants that can help improve your work environment by several folds.
1. Cactus
The basic ideas that spring up in a less informed person's head when thinking of plants in workplaces could be beautiful flowers. But they are only best for funerals and weddings. It is wiser to pick the thorns out of these suggestions first. Cactus might not be the most lovable plant, but it certainly is the most loyal companion on the list. It barely demands water and just wishes to be in a lit-up environment to suit its free-spirited nature. Classic low maintenance plant, serving as a valuable asset to add to your workplace.
2. Aloe
Talk about multitasking and competitiveness amongst species. Aloe is a small plant that achieves these feats with the least efforts. It is suitable to place them on shelves and desks. While you are doing manual labor, let this plant get you some fresh air, free of organic compounds that might affect your health otherwise. Besides this, if you ever get a cut or burns, you always have some handy ointment in the form of aloe's gel to apply to it.
3. Jade Plant
Let the Japanese good luck charms chime into your workplace. Jade plant is a small flowering, succulent plant with minimal watering needs and can go for some good time. Many people believe that it helps businesses prosper. For this reason, it is also commonly known as the 'Money Plant' among the Japanese folklore.
4. Bonsai
A Bonsai can be one of the most unique-looking additions to the plants that occupy your desk. This miniature tree-like looking plant sure take their time to sprout. For this reason, most people are easily discouraged to nurture them. However, once you have successfully matured one as a companion, it is not so difficult to keep it up as a hobby.
5. Pothos
Since elegance is also one of the aims besides improving work environments, pothos can be helpful. Every other plant can be placed on ground or shelves in a pot, but not many can be hanged from ceilings in a basket. Fortunately, Pothos has a good variety to offer to cover this area. The neon pothos can lighten the dimmest of workspace moods with its hard-to-miss colors. They are small and easy to manage and are very lively to be added to your office decors.
6. Chinese Evergreen
Coming towards a few of the high maintenance/care options that could be on your list, Chinese evergreen or Aglaonema is a great addition to workplaces. You may choose to set it up in a pot or use a basket to make it look portable. But looks are not the reason for its fame. This plant is best suited for offices because it reminds you that you are only human expressing its own needs. When it is about time to water the plant, the leaves bend as a gesture of expressing its need. Similarly, once watered and with timely maintenance, they perk-up to show that it is being taken care of well.
7. Snake Plant
If you have an office that has the least openings to let sunlight in, yet you want plants to be a part of it, the snake plant is your best bet. It is a plant that works well even with minimal light and random watering schedules. All you need to be careful is to provide it enough room to grow and a strong pot to withstand that growth. As the name suggests, its leaves are capable of crawling up some real good heights.
8. Warneck Dracaena
Warneck dracaena is a fast, super tall growing shrub that can serve multiple purposes at workplaces besides giving it a beautiful look. It compliments wooden floors and can act as natural workspace separators. Besides this, it's effective against atmospheric pollutants.
9. African violets
Despite all the suggestions and the norms, if flowers are what makes you feel content, so be it. African violets are colorful desk companions that would light up your day. They are easy to move around and very beautiful to add as a decoration item. But be warned, they require more maintenance work when compared with most of your other choices.
10. Peace Lily
Don't let the name fool you, it's just the courtesy of its elegant white color. Peace lilies are beautiful plants that can endure cozy, cold environments with their mild disinclination to sunlight. It is preferable to keep them in shade. Also, from pets, since cats and dogs get sick from ingesting this plant.
Summary:
So this sums up some of your finest options to pick from to improve your work environment. If you are still scratching your head over what to pick, you should enlist the help of some professionals who know what they are doing. It may save you a lot of time and energy and would get the work done in the best possible manner.