Atura Recovery Sunday Set to Heat Up Western Sydney's Post-Club Party Scene
Written by

Bria Lamberton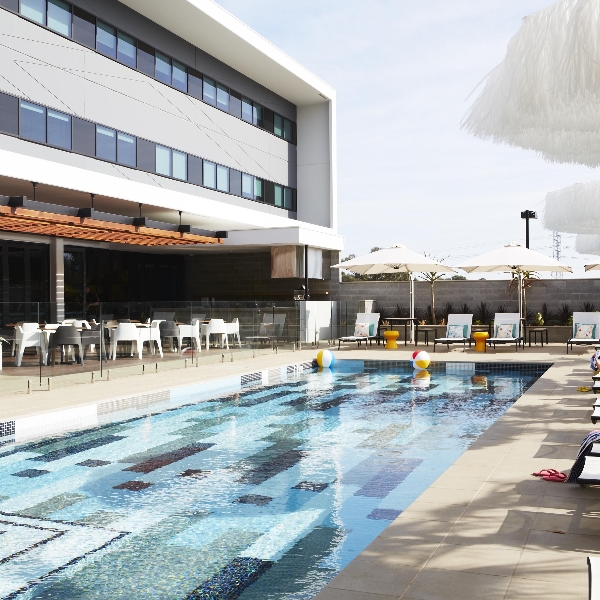 The recovery party prospects out west are about to heat up for those left reeling as the club decides to close just as it feels like it is warming up.  Making the most of the Palm Springs-inspired, pool deck, Atura Blacktown is preparing to shake up the post-party recovery scene with cocktail-infused poolside dance sessions every Sunday all summer long.
From 1pm – 9pm every Sunday throughout summer, Atura's firing up the barbie and shaking up the cocktails, throwing the gates open to give locals unprecedented access to their guest-only resort-styled pool courtyard with music by renowned Australian DJ Nick Young.  Handpicked by QT and Atura Hotels Music Director Andrew Lewis, Nick Young has had more than 10 years' experience spinning just about every genre in the best bars and clubs across Australasia. 
"A Knicks set sounds like a great old friend you've never met, splicing underplayed classics with breaking music" Nick said. "I'm really looking forward to serving up this fresh sound to a whole new Western Sydney audience this summer."
Somewhat of a passion project for Atura's General Manager Joel Gordon, the concept is one he's been cooking up all winter long.  "Atura's pool deck is magic in summer and it gives us the ability to create an experience like nothing else for Western Sydney" he said. "We think it'll become a real mecca for people looking for a cool way to spend the day with their friends chilling by the pool with great music."
If you're yearning for a cruisy Sunday cooling your heels in the pool, sipping on the latest concoctions by Atura's renowned cocktail mixologists and listening to some great tunes, grab the swimmers and your sunnies and head to Western Sydney's coolest recovery party. 
What: Recovery Sunday live DJ pool sessions  
When: Every Sunday from 1pm – 9pm over summer from 13th December
Where: The pool deck, Atura Blacktown, 32 Cricketers Arms Road
Wear: It's a poolparty so swimmers, shorts & singlets are welcome.
Cost: It's free! There are also Happy Hour drink prices from 4pm – 6pm
Kick off your Sunday in style at Atura's Recovery Sundays which are set to become a summer-time ritual. It does come with a warning though – when the alarm goes off Monday morning, you may find yourself wishing you'd booked the day off.
ABOUT ATURA HOTELS:
Urban, industrial and art-inspired, Atura Hotels are where modern business and leisure travelers escape the predictable to embrace a new style of travel.  This fresh take on the mid-market travel experience fuses dynamic spaces, hip styling and the latest technology at surprisingly affordable prices ensuring guests feel connected and energised.  Expect free Wi Fi and a host of other benefits each time you stay.  Engagement with surrounding communities and active support of the local music & art scene are fundamental to the Atura brand philosophy.
Over the next few years, Atura Hotels will be launched across Australia in select CBD locations, business park precincts and regional hub.  The first to open was Atura Blacktown in October 2013 and in July 2014 the property won Mid-Range Hotel Accommodation of the Year at the TAA (NSW) Awards for Excellence, Best Mid-Range Hotel at the AHA Australian Awards for Excellence and Best Standard Accommodation at the Destination NSW Tourism Awards .  In 2015 Atura Blacktown won Best Australian Mid-Market Hotel at the Hotel Management Industry Awards for Excellence.  Atura Albury, which was awarded Best Mid-Range Hotel Accommodation at the 2015 TAA (NSW) Awards for Excellence, opened officially in January 2015 and Atura Dandenong in April 2015.
For more information about Atura Blacktown and Atura Hotels visit www.aturahotels.com.au.