Pan Pacific Perth Offers Guests a Welcoming Arrival in its Newly Refurbished Lobby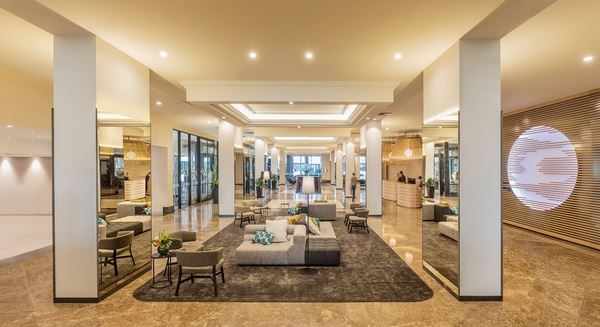 Pan Pacific Perth has debuted its new arrival experience and chic refurbished lobby, which offers guests an engaging and modern space to begin their stay.
Upon arrival, guests will be greeted by a 'Pacific Ambassador' who will be on hand to assist with their smooth arrival and departure, whether it be assisting with bags, helping with check in or directing guests as they arrive. Pacific Ambassadors are a Pan Pacific Hotels and Resorts initiative and an extension of the concierge team that can offer advice on the hotel's facilities and local attractions or simply offer recommendations on where to get the best cup of coffee in the city.
Craig Bond, Area General Manager, Oceania at Pan Pacific Hotels Group says Pan Pacific Perth is dedicated to enhancing the guest experience, "When a guest comes to stay at a hotel, the lobby is the first and last thing that they will experience so it's incredibly important to their overall stay. The newly created role of Pacific Ambassador emphasises the importance of creating a welcoming connection for our guests from the moment they arrive at our hotel. Whether you are traveling for business or leisure, a warm welcome sets the tone for your stay and a friendly goodbye will leave a lasting impression and entice you back".
The personal connection is continued through to the check in process, with the introduction of check in pods that allow front desk associates to be more interactive and have improved communication with guests. This allows for more efficient check in and out during peak times. Additionally, the concierge pod is now more centrally located and easily accessible for guests, adding to the ease and convenience of the arrival and departure experience by providing unobstructed views of reception and the concierge desk immediately upon entry. 
The new look lobby has been carefully crafted by HASSELL, the award-winning design company that was also responsible for the Premier Rooms and Suites refurbishment unveiled earlier this year. Inspired by the warm hues of the Pacific Rim, the upgraded layout and furnishings enable a welcoming, spacious and engaging atmosphere. The HASSELL design brings together the sophistication of contemporary Asia and the Pacific region with the rugged textures and vastness of the Western Australian landscape, creating a distinct sense of place.
The hotel's location provided cues for the chosen colourscape and the material selection is soft, sensory and luxurious, enhanced by the simplicity of natural elements such as timber and stone. The design has contemporary aesthetic and provides an engaging experience for discerning, seasoned world travellers who have learned to appreciate true quality in their hotel experiences. 
Additional enhancements to the lobby include a new business centre, fully equipped with three new Mac computers, printing facilities, conference table for business meetings and lounges for informal coffee meetings. Pan Pacific Perth understands the importance of staying connected while travelling and guests can now enjoy complimentary Wi-Fi throughout the lobby.
Complementing the lobby enhancements and celebrating the festive season, there will be a pop up gingerbread activation running daily, commencing 14th December. In-house Executive Pastry Chef, Laurent Xavier will lead the pop up, serving gingerbread cookies for guests within the lobby. At the manned station, guests can get their cookies personalised with their name or initials by the Chef.
Families planning their summer holidays can take advantage of the stress free arrival experience with the 'Pacific Escape' package offering great value over summer. Enjoy complimentary breakfast for two adults and two children under 12 can stay and dine complimentary as well. Wi-Fi and self-parking is also included.
Prices from $185 per night, valid for stays from 1 December 2015 to 29 February 2016. For bookings and enquiries call 1800 049 610 or email enquiry.ppper@panpacific.com. 
Pan Pacific Hotels and Resorts
Pan Pacific Hotels and Resorts comprises 21 premium hotels, resorts and serviced suites (including those under development) in 11 countries across Asia, North America, Oceania and Europe. The "Pan Pacific" brand provides refreshing Pacific experiences inspired by an invigorating blend of its Pacific Rim locations. It is focused on enriching experiences that draw on a diversity of landscapes and cultures; and relevant choices that convey freedom and individuality. Pan Pacific Hotels and Resorts has been recognised by Condé Nast Traveller magazine as one of the 25 hotel companies demonstrating social responsibility and has won esteemed accolades such as World Travel Awards, AAA Four Diamond Award, Condé Nast Gold List and Readers Choice Awards. For more information, visit panpacific.com
Pan Pacific Hotels Group
Pan Pacific Hotels Group is a wholly-owned hotel subsidiary of Singapore-listed UOL Group Limited, one of Asia's most established hotel and property companies with an outstanding portfolio of investment and development properties. Based in Singapore, Pan Pacific Hotels Group owns and/or manages over 30 hotels, resorts and serviced suites with some 11,000 rooms including those under development in Asia, Oceania, North America and Europe. The Group comprises two acclaimed brands: "Pan Pacific" and PARKROYAL. "Pan Pacific" is a leading brand in Asia and the Pacific Rim with hotels offering premium accommodations and services. PARKROYAL is a collection of comfortable leisure and business hotels and resorts located in the heart of cities and interesting locales across Asia Pacific. For more information, visit pphg.com