Five ways to dress up for a formal occasion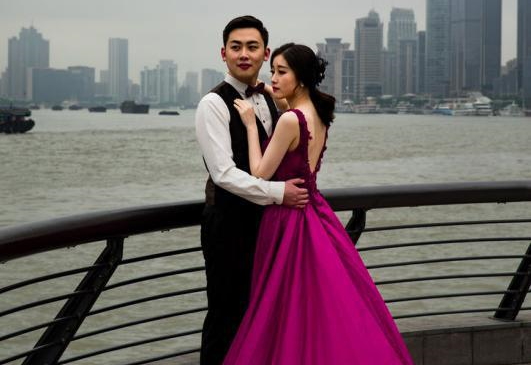 Everyone wants to look good and stand out when going to a formal occasion. There are not many opportunities for one to dress up and go out. Hence when such an opportunity presents itself, making most of it is a must. Dressing up for any occasion can be a nerve-racking process. Formal occasions can be weddings, workplace parties, dinner parties, fundraising galas, award shows or ceremonies, and all these come with certain dress code depending upon the mood of the event. How to gauge that mood, without looking overdressed or underdressed, that is the question.
If its a night function, dark colored full-length evening gowns should be worn, it is coupled with some matching glittery jewelry and heels however if its outdoor night event than heels should be replaced with flat sandals. If its a day time events light flowery colored full-length gala dresses coupled by matching jewelry and platform shoes complete the look.
Weddings:
Before dressing for any wedding, a few things should be kept in mind, what time of the day is the ceremony. Secondly, where is the venue, is it indoors or outdoors, whether it is being held at some religious place or not. If the ceremony is at a religious place, the dressing should be conservative. Weddings require you to dress formally and go an extra mile in terms of efforts; however, the efforts depend on the bond or relation you shore or have with the person who invited.
If its an outdoor wedding like on the beach or in a garden then wear something that is above ankles. For such occasions, a formal short dress works too, which can be worn with matching strap on fancy shoes. The thing to watch out during weddings is that your dress should not be of bridal colors nor should it match with that of bridesmaid.
Work Place parties:
Parties held at workplace or parties one has to attend because of work or business require formal but non-fancy dressing. Wearing pantsuits with fancy silk blouses and stud earrings will work well for a business gathering. Or wearing a skirt with a fancy blouse or knee-length solid colored formal dress. Nothing too revealing or flashy. Hair should be neatly tied up or slicked back with the natural makeup look. Business parties are about giving a strong composed and most importantly, elegant impression. Wearing earth colors, vintage jewelry and black colored shoes should be on preference. The classic look is the most reliable for a work-related event. Make sure not to wear something with too much glitter or neon colored. It will make you stand out too much. Work gathering is not the place to be a center of attention.
Formal Social Gatherings:
Formal social events like house warming parties, anniversary parties, wedding receptions, holiday dinners, other festivities call for open and creative formal dressing. These events usually consist of friends family and acquaintances so dressing boldly, a bit creatively and experimenting with new looks does not hurt. Somethings that are a big no are wearing jeans, shorts, crop tops, tank tops, flannel, or sweatshirts. No matter how non-formal these events may be, wearing casual clothes just makes you stand out like a sore thumb. If it is a friends gathering, anything from evening dress, to skirt paired with a fashionable blouse or a cocktail dress will work. Wear comfortable shoes as these gatherings tend to drag out, and you do not want to be uncomfortable with your feet hurting. Also, before going to a formal family event, do take care of your skin and hair. Do makeup and simply style your hair, you do not want an old aunt or uncle pointing out your dark circles or making fun of your curly hair!
Galas:
Events like fundraising galas, school dances, college formals, launching parties ask for elegant hip dress up. Most of the time, these events come with a dress code, like a black-tie event or all white. The dress code is kept to make sure guests come in formal attire. Wearing a full-length evening dress or embellished short dress is the way to go. These events still allow you to dress loudly and have your style. One can wear metallic jewelry, and bright makeup to compliment the monochrome dress. Heals or platform shoes can complete the formal look. For off shoulders dress, one can go with danglers and open hair. As for the conservative closed dress, studs with hair done up in french knot never goes out of fashion. Galas are the places to show off and stand out, so do not hold back with styling yourself. Galas usually have a lot of standing around and dancing involved, so make sure you wear shoes that do not hurt and dress that is not uncomfortable for long hours. Few things are always a must for any formal event. Firstly being that one should look fresh with good makeup and well-done hair.
Award Ceremonies:
TV channels, film industry and media agencies hold award functions annually. The media personalities go to great lengths to dress up so that they can stand out. Because of that, many over the top, extremely bold and adventurous styles are adopted. Everyone makes a fashion statement. Thinking out of the box and shocking the onlookers is usually the theme of these gatherings. These events also sell tickets to the general public; these are places to go all out. Dressing up formally in full-length evening dress is a must or very fancy short dress. Other than that there are no rules for these events. You can choose the craziest colors. Match yourself with the widest assortment of jewelry . Wear loud, bright makeup. Get creative with your hair. These events are about making fashion statements and going all out. They are like a live runway show, but you do not need to be a model, nor do you need to have a designer. These are the places to show off, stand out and make a statement.
Summation:
If either of these two things is amiss, it will ruin your complete outlook. Secondly, wear colors according to your skin tone. If you are not very sure about the colors that suit you go with the general rule that light colors go well with light skins and darker colors go well with darker skin tones. Wearing too much jewelry is never okay. Wearing denim, corduroy or casual cuts is a big no for any formal event. Wear comfortable shoes always, as formal events require a lot of moving about and mingling, and that becomes difficult if your feet are hurting though out the event. Lastly, wear whatever you make look beautiful to yourself.