Tips to Add Elegance to Your Kitchen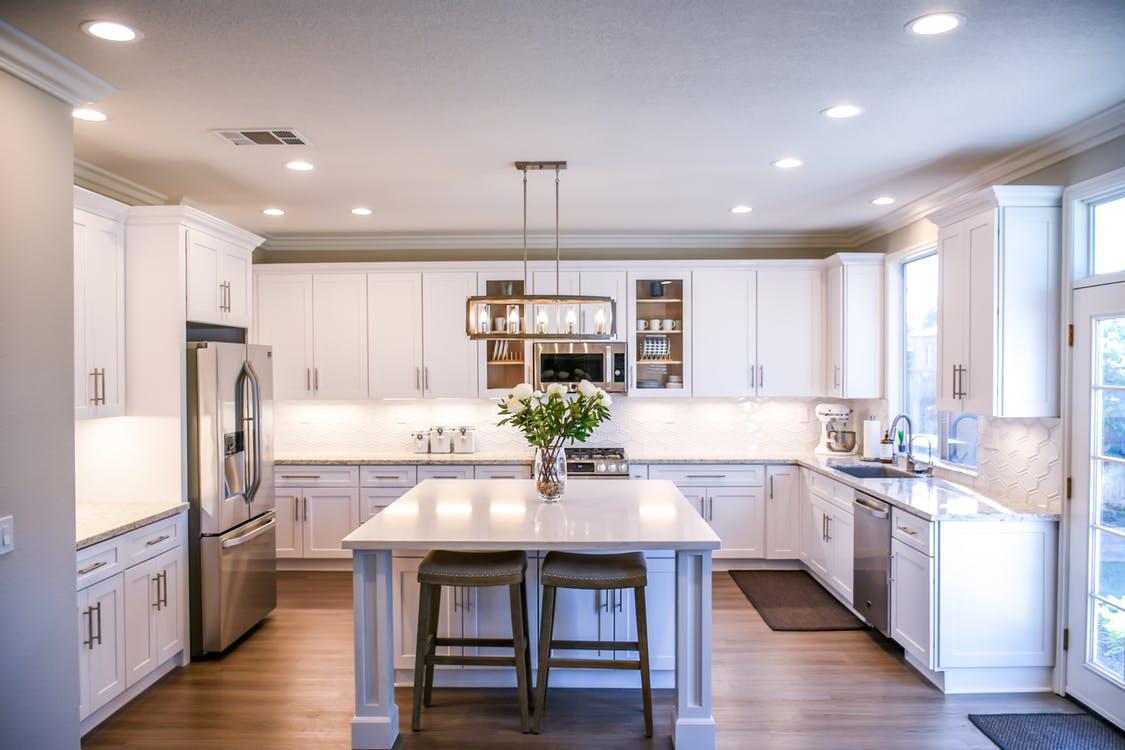 Brewing a deathly concoction in a pot and channeling your inner Sabrina, the Teenage Witch vibes, or simply putting your family's sweet tooth to test with a self-indulgent, gooey decadent? The kitchen is considered the heart or the center of any home – it's where most of the action takes place, and we don't mean the bedroom kind! Wink wink!
Food helps to seduce taste buds and put your stomach's rumbling sounds into oblivion! But in order to bake or cook your ingredients to perfection, your kitchen needs to be top-notch! To make sure your kitchen is easy on the eyes, you're not at all required to spend your money on renovations that cost you an arm and a leg, or worse, your savings!
Sitting in a high-end dining room of a restaurant helps to charm our wits out – so why not do the same for your kitchen at home? In the era of sheer minimalism and subtlety, we, the makeover-experts have mentioned 7 tips to make sure that your kitchen raves of its upgrades and helps you become content with your culinary skills!



Fix Your Kitchen's Layout!
Your kitchen should be as neat and tidy as it is hygienic! According to interior designer, Elaine Griffin, your kitchen's layout practically rules over the rest of its furnishings but that doesn't mean that you settle for boring over a customized and sleek design.
As a rule of thumb, the refrigerator, stove, and the kitchen sink should be within your footprint or foot's angle of your entire workspace. In addition, the refrigerator should be as close as it can be to the kitchen's entrance but make sure it doesn't block the way and cause a hindrance to anyone coming in.



Marble Your Way Through!
Believe it or not, the veined marble tiles add to the luxury of any flooring – be it your kitchen or the gallery of your home! But, we are all up for moving another step forward by adding marble fronts to your cabinets and walls to create a magnificent backsplash! Imagine walking into a kitchen tiled with marble and then heading to chop some vegetables on a marble countertop!
Also, a marble layout works well with a majority of contrasts and helps you to transform the entire outlook of your kitchen without spending too much on your furnishings! For instance, if you're going for streaked white marble countertops, then place black chairs or counter stools all around the island.
Place your necessities on the black marble countertops such as your espresso machine and toaster to prevent a morning hassle! Design your backsplashes with black marble and add in a tiled feature to complement the contrast.



Add Roman Shades
Good lighting is practically the entrance to heaven. Go for Roman shades made with linen that allow the light to reflect through the windows into the kitchen. Cover all of your windows with a coordinated pattern and colour of Roman shades so that they can complement the rest of your furnishings such as the cabinets and the paint job, and in turn, help to add to the entire outlook of your kitchen.



Pendant Lighting
Replace plain light fixtures with a provocative pendant lighting in the center of the ceiling of your kitchen. Today, pendant lightings not only help to illuminate the room, but also allow it to become the focal point of the entire kitchen.
Draw attention to your small kitchen by hanging a medium-sized pendant lighting instead of arranging small-sized light fixtures and adding to its congested space. Plus, if your kitchen comprises of a ceiling that is less than 9 feet tall, then consider choosing a pendant lighting that hangs low in order to give an illusion of a lofty space and a high ceiling.
Additionally, try fixing the pendant lightings with a dimmer and hanging one atop the kitchen islands or countertops to dim the light during dinnertime (read: candlelight dinners!)



Invest in Stemware
We are a big fan of versatile cutlery and elegant crockery that comprises especially of long stemmed necks! But, your budget might be a big problem, as stemware can be costly and affect your remaining kitchen renovations.
Consider investing in affordable stemware and a rack that allows you to display the stemmed necks through glass cabinets or those that are fitted with glass doors and wooden handles. By displaying your stemware, you're not only creating an illusion of an inviting and welcoming kitchen but one that's luxurious and elegant.



Refresh Your Kitchen with a New Paint Job!
If you're unsure about what to do to upgrade your kitchen's appearance, settle for a fresh paint job so that your room breathes of a brand new appearance! If your kitchen is consistent with a modern design, consider going for dark hues such as black, purple, and grey to create an illusion of an extravagant, elegant, and lavish design.
If you're a bit old school, then creams and beiges will help to reflect light into your kitchen and make it look bigger and bold. Try to add a wooden counter or replace the flooring with wood to sport the cream-coloured walls. Additionally, you can add a feature to your kitchen by painting a wall a contrasting hue than the rest or by adding a textured wallpaper to outshine the setting and furnishings.



Counter Bistro Stools
Bistro counter stools have been the mainstay of a modern kitchen, especially if your room sports an island in the center. While it's elegant to have separate dining table with chairs in your kitchen's space or dining room, having bistro counter stools or sleek Lucite seats around the island might cut the deal too! If your budget cannot stretch to finance or include a dining room, then work on your kitchen's centrally placed island and focus on decorating it to your heart's content!
Add a topiary and hang an array of symmetrically aligned pendant lightings on the top of your island to dine in style!
Renovations don't necessarily have to cost you too much – all you need is a style book to help you redecorate and revamp your kitchens living space!