Window Fans For Your House That Don't Make Noise – Silent Fans
Everyone loves feeling cool air, especially in the hot summer months. For many people, cool means comfort, and they can sleep better at night, even if it's sweltering outside.
However, most people find that the use of window fans on top of their air conditioning system is an inconvenience. Know more about air conditioning systems in this link here. They find out that the noise from the fans intervenes with their sleep and rest. As a result, they might spend a restless night hearing the sounds of a noisy electric fan, or they just have to turn off the appliance altogether.


Fans are Not a New Thing
Back in the day, people are already looking for ways on how to feel cool. They stir all the air that they can to their bodies just to feel comfortable. Early in the day, most of the mechanical window fans are as silent as those people who are operating them.
However, with the emergence of electricity, these appliances become louder over time. This is why a new market that needs something quieter has emerged.
There are so many models, products, and variations that one can choose from that it becomes confusing. Some personal preferences and appliances should meet the needs of the homeowners to be considered.
If you don't know where to start, then this is a guide for you.
You might want to know first the benefits of having a quiet cooler inside your home, and you might want to know the things that you should be looking for in the first place. Narrowing down your choices can be easily accomplished by comparing models, features, and benefits. You should also look for the designs and see if they complement your home décor. The first thing that you need to ask yourself is, why do you need a quiet fan?
The Need for a More Quiet Environment
Most people want to cool themselves when they are working or if they are asleep. A quieter environment will give them more concentration if they are working at home or in the office. The distraction that comes from the big blades can be minimized. Sleep can also be uninterrupted if the night is quiet. Having a well-distributed cool air throughout the body and an environment that is free from noise is what most homeowners want.
Features to Look For
There are several features that one should look for in a fan. These features will determine the performance and the noise levels that one should wish in their fans.
Adjustability – The adjustability is essential, especially if you want to put window fans such as those that are from Soundproof Pros. You should be able to adjust the ventilator's head in the direction where you want plenty of air. You can change the power from the low, medium, to high, depending on how cool you want it to be.
Modes – There should be modes that are perfect for working, sleeping, and doing other activities. Most modes can be normal, where the airflow is steady. The natural mode is when gusts of wind flow through the cooler. This mode can be best in the morning where the air is not yet humid. The sleep mode is excellent at night, where the small gusts of cold wind come out.
Remote Control – Having a remote control is very convenient for many. They can change the modes whenever they feel that the fan is expelling too little or too much air. They can adjust the temperature or the swing feature depending on which side they want to get more air.
Vibration – Vibration does not affect much the performance of the fan, but it is essential when it comes to noise. When there are vibrations, they might be related to an issue such as an unstable base of low- quality materials. Choose ones that do not vibrate as this can contribute to the noise levels that fans can expel.
Other Things to Consider
Blade Shapes - the shape of the blade can determine the level of noise in many ventilators. Most manufacturers attempt to increase the output while at the same time reducing the levels of noise. Choose ones that say they have decreased turbulence or reduced vortex shedding in an appliance.
Blade Speed – There is a correlation that can't be ignored when it comes to the noise and the speed of the blades. Choose ones that have higher speeds but reduced noises. This might be in contrast to the common perception of many that higher speed equates to higher performance and more noise, but this should not be the case.
Blade Diameter – If possible, choose ones with a larger diameter as they can produce more airflow than the ones which have shorter blades. For example, a 15" blade diameter can provide the same airflow as the one with a 10" diameter. Still, it does so with a lower revolution per minute, so the noise is significantly decreased.


Different Types of Ventilators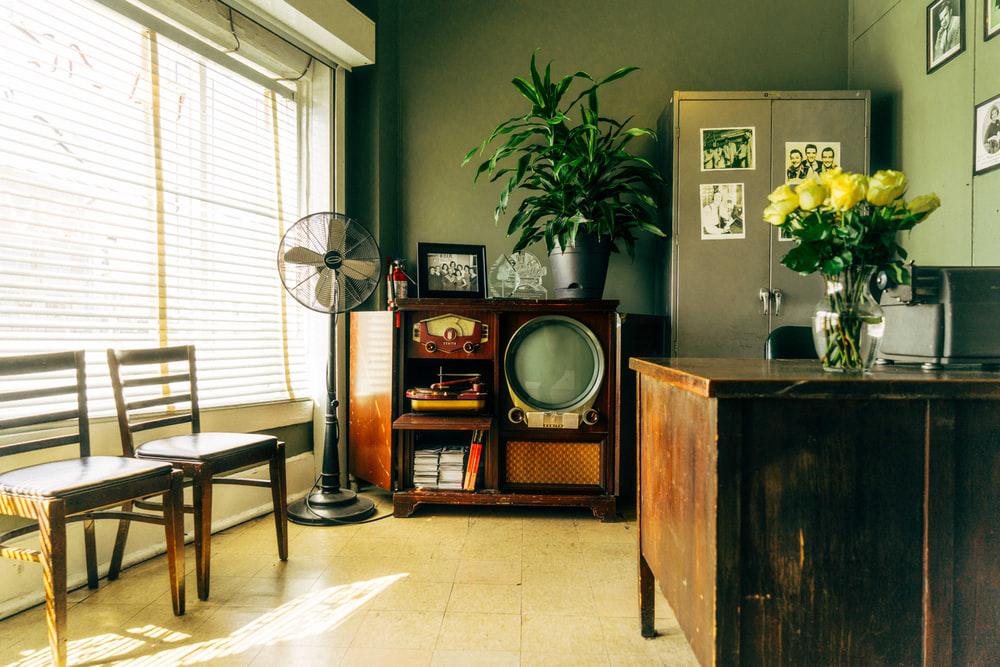 Tabletop Ventilators – These are often small in size, and they are just right when it comes to tabletops. These are used on desks, and they are ideal in cooling a person who is often working. These are cheaper than the tower types, and the ventilation is more concentrated.
Ceiling Ventilators – These are commonly found in the living rooms of many homes. Read more about them here: https://www.daviddarling.info/encyclopedia/C/AE_ceiling_fan.html. They come in with different sizes and designs that aim to match the décor. These can have contemporary designs and lamps around it. These types are used to cool more significant areas, such as the entire living room.
Pedestal Ventilators – These are mounted on a pedestal, and they have the flexibility to be moved around. They can be put inside the bedroom, window, or the living room. These types are large, and they can circulate cool air in a room more effectively.
Tower Ventilators – These types are smaller, and they sit closer to one's floor. They are much like the pedestal fans in which homeowners can move around. Their decent height makes cooling a small room a breeze.