Extreme Sailing Series Set To Thrill
Written by

Juliet Anderson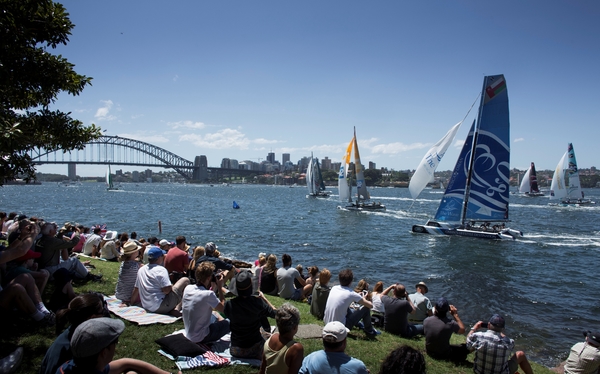 Spectacular sailing is coming to Sydney Harbour when the Act 8 of the global 2015 Extreme Sailing Series™ presented by Land Rover is staged from 10-13 December 2015.
What's On - Extreme Sailing Series™
Friday 11 December – Sunday 13 December 2015 (Thurs 10 Dec Media Day)
Sydney Harbour Racecourse - set between the Sydney Opera House & Fort Denison
Race Times – 2.00pm – 5.00pm
Mrs Macquaries Point - Race Village and spectator vantage point
Fringe events and food stalls will be available at Mrs Macquaries Point throughout the race event. Please check the website closer to time for details. www.extremesailingseries.com/sydney
This spectacular grand finale of the 2015 season will be fast, competitive and entertaining. Nine international Extreme 40 catamarans will battle it out against the breath taking backdrop of Sydney Harbour. It promises to be a thrill for spectators and competitors alike - a highlight in Sydney's action-packed summer events calendar.
Andy Tourell, Extreme Sailing Series Event Director, is delighted the final of the Series presented by Land Rover, is in Sydney where the prestigious Champions trophy will be decided and awarded. "Racing just metres from the shore in an easy to understand format, it is not just aimed at sailing fans, but to everyone. The Race Village, at Mrs Macquaries Point, will provide the prime viewing position and plenty of free entertainment for the whole family." added Tourell. 
To find out more about the Extreme Sailing Series visit www.extremesailingseries.com/sydney or keep up to date with all the action on the Extreme Sailing Series website 'LIVE' page. This will serve as a 'one-stop-shop' for live video and live streaming of the SAP analytics and dynamic leader boards. Fans can also follow the new event twitter handle @exssLIVE for all the updates from the water as it happens.
From 11 December 'Stadium Racing' will be streamed live to the website with expert commentary including analytics from technical partner SAP.
Join the chat:
https://www.facebook.com/extremesailingseries
https://twitter.com/extremesailing  #exss
https://twitter.com/exssLIVE #exss