6 Ways To Bring Your Garden To Life With Garden Lighting
Enjoying your garden and the hard work you have put in can be a wonderful experience. Add a level of intrigue and wonder with some well placed garden lighting.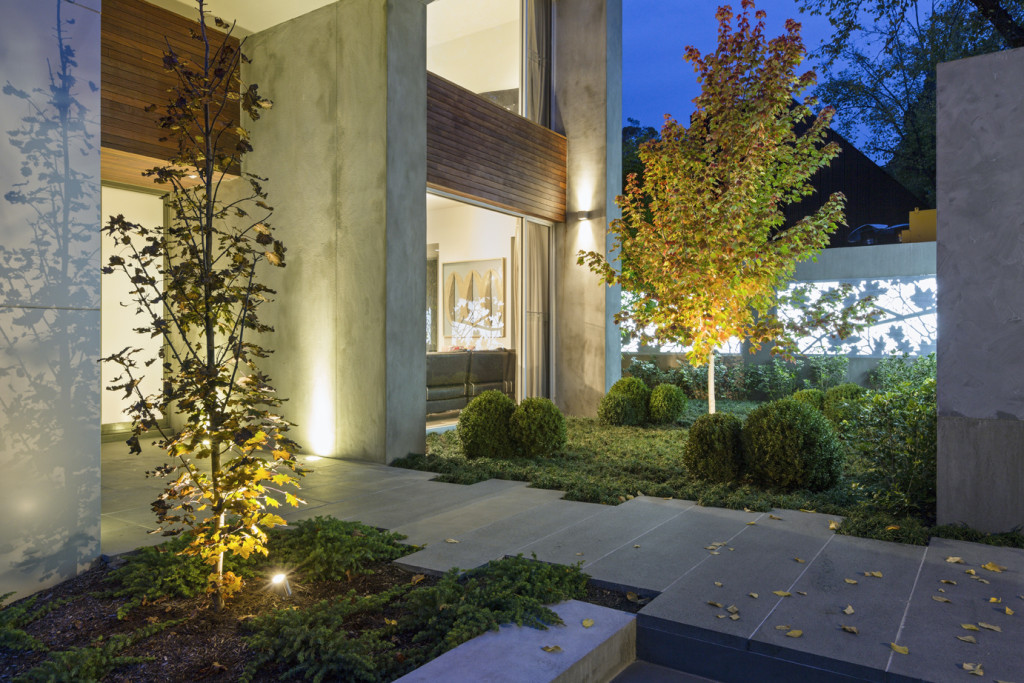 Garden design is an important part of making a statement with your home. Lush gardens and winding paths instil a sense of wonder that can only be captured with good planning and solid implementation.
Exterior lighting is just as important as interior lighting. It can provide a relaxing atmosphere and create a unique space that you and your family want to spend time in. Garden lighting has a massive impact on your entire garden and outdoor entertainment areas, so knowing where and how to place lights is key to creating an inviting and compelling experience.
Some want to create a more vibrant and illuminated space, and should consider stronger lighting sources. Others want to achieve a soft and ambient atmosphere, and should consider solar lights and smaller lanterns.
Getting the most out of your garden means enjoying it both day and night, and what better way to do so than with some beautiful garden lighting.
Judicious use of garden lighting is what often separates good garden design companies from the pack
Here are some great ways to utilise garden lighting and get the most out of your garden.


Show Off Your Best



Everyone has that special tree or plant that they absolutely love. A great way to draw attention to it is with a well placed spotlight.
Especially with larger trees, shining light through the branches creates a fantastical image, highlighting the intricate shapes and branches, while making the colours pop and glow, leaving any visitor bewildered. This works especially well when placed near an entertaining areas to be enjoyed at all times.


Utilise Water Features



The best way to draw attention to certain areas of your garden is to create unique focal points. Installing even a small water feature with the right lighting is sure to enhance any space.
Back-lighting a water feature creates constant movement and interest as the flowing water catches the light from different angles, creating a small light show that draws the eye. The soft glow and refracted light through the water will also dance upon nearby plants, expanding the show and keeping things interesting.
This also rings true for pool lighting. If you have a pool installed, consider adding on some under water lighting. Highlighting the blue of the interior tiles creates a beautiful blue glow in an otherwise green environment, adding to the atmosphere and making the pool ever-so enticing.


Light Up Entertaining Spaces



Sometimes garden lights are best used as accents to a more central entertainment area. Lighting up surrounding garden beds and throwing light up along nearby fencing and walls creates a great relaxing ambience in an outdoor entertaining area.
In seating areas, consider installing lights below seats to create mood lighting and an inviting area for guests to relax.
Overhead string lights have become popular in recent years, offering a soft glow that is often found in cafes and beer gardens. They are inexpensive and can be used liberally without breaking your budget.
Alternatively, if you have a focal point nearby such as a tree lit up with a spotlight, the glow of the trunk and leaves may be perfect for the space depending on it's size and the feel that you are going for. Consider your surrounds and how different parts of your garden can work together to create unique lighting effects.


Highlight Paths



Installing lights leading into entertainment spaces can also add a great ambience. Placing garden lights along a path will shine light up through nearby plants and into trees, giving you something to look at as your traverse through to a place of relaxation.
For guests, path lighting creates a welcoming atmosphere as they stroll through your garden or towards your home.
There is also a safety aspect to path lighting. It offers a safe path that illuminates any possible tripping hazards, while still looking fantastic in the process.


Don't Over-Do It



While you might be thinking "I'll buy all the lights!", keep in mind that the key is subtlety.
The best use of garden lighting is to create only a few real focal points, while keeping the rest of the lights fairly minimal. Especially along paths, spread them out and keep eyes drawn to where you want people to look.
Light reflecting and dancing through the leaves creates a certain mood and wonder. Placing too many lights… well it might as well be day time.
Try to be creative with the types of lighting you use in particular areas. Fairy lights may sound silly in some circumstances, but depending on your overall lighting setup, could create a fantastic focal point when utilised correctly.


Get Creative!
Ultimately, your garden is what you make it. Get creative and think up some whacky ideas. Throw some fairly lights around or look for some unique out-there products.
Being unconventional is fun and adds personality and charm to your garden. Just make sure it reflects you!