Which first aid course should I take?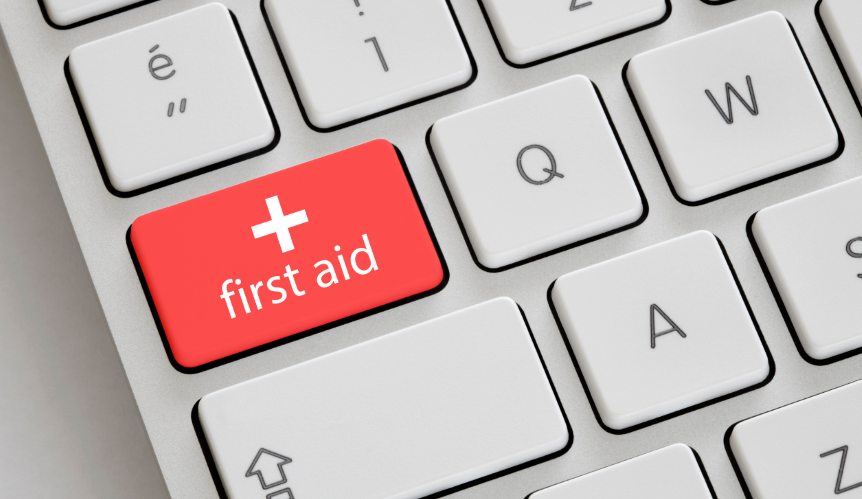 What is First Aid?
First Aid is an important skill. Having a first aid certification means that you have the knowledge to assist in emergency situations and may mean that you can save a life. Courses vary but can often be required to attain employment. Standard first aid lasts three years before it is due for renewal. The courses teach you how to respond to a range of emergencies so that you can feel confident in your ability to help someone in distress.
What does a First Aid Course entail?
First Aid courses no longer need to be full-day affairs which mean you miss vital hours at work. A standard first aid course will cover over two dozen common emergencies and how to respond. They take just six hours to complete face-to-face or two in-person after online work has been completed at your own pace! Courses are often interactive, and you will get to practice what you learn with bandages and mannequins available.
Who needs to take a First Aid course?
Whilst some people need first aid certification in order to perform their workplace duties. First Aid can be recommended for everyone as you never know just when you might be placed in an emergency situation.
Some workplaces require a specific type of first aid to be completed, but this is something that we will discuss later. First aid can also be taught to children above the age of fourteen who wish to learn.
Different types of courses
There is a range of courses you can take to improve your safety inside and outside the workplace. They include but are not limited to:
Provide First Aid (HLTAID011)

Provide Cardiopulmonary Resuscitation (HLTAID009)

Provide First Aid in an Education and Care Setting (HLTAID012)

Mental Health First Aid (MHFA)

Youth Mental Health First Aid (YMHFA)

White Card

Perform Rescue from a Live LV Panel (UETTDRRF06)

Conduct manual tasks safely (HLTWHS005)
Which course should you take?
The industry you are based in will likely determine the courses most suitable for you. Provide First Aid is accessible for anyone, as is CPR and should be regularly taken in order to assist in a range of situations. CPR covers what to do if a casualty is experiencing issues with their cardiovascular system or having problems with breathing.
Childcare First Aid
Provide First Aid in an Education and Care Setting catered to those working with small children and newborns. The course goes through CPR for these ages with appropriate mannequins and adults and will teach you how to deal with common injuries and medical conditions found more often in the younger age brackets.
White Card and Perform Rescue from a Live LV Panel
White card and perform rescue from a Live LV Panel can all be used by those on building sites and in various trades. White card teaches participants how to work safely in the construction industry and requires them to demonstrate awareness and knowledge of health and safety to prevent injury or harm to themselves and others. Whilst Perform Rescue from a Live LV Panel is for those who work with live switchboards or perform work on live switchboards.
Conduct Manual Tasks Safely
Conduct manual tasks safely are designed for nurses, health workers, support workers and aged workers working in hospitals and residential care settings. The course is equipped with hoists, hospital beds, slide sheets and more. There is a lot of hands-on practice and practical examples.
First Aid Near me
If you are in Cairns or nearby, please feel free to book your first aid course here!