Breaking News: This Massage Gun Isn't Just for Athletes
When the massage gun first came to prominence, it was touted as the ultimate recovery tool for athletes and other fitness enthusiasts. After all, this device delivers a relaxing massage through percussive therapy, thus reducing the impact of delayed onset muscle soreness (DOMS).
Additionally, based on the brands that I've tried over the last couple of years, massage guns generally come at a high price, so they're really more of an investment than a casual purchase. For that reason, I could understand how people — myself included — initially believed that they are only for hardcore athletes.
But then, this year, I tried out a new brand that made me question everything I thought I knew about this device. This new brand made me realize that perhaps, massage guns are more flexible than we think — perhaps, they are as beneficial to non-athletes as they are to athletes.
The brand I'm referring to is the HYDRAGUN.
Unboxing the HYDRAGUN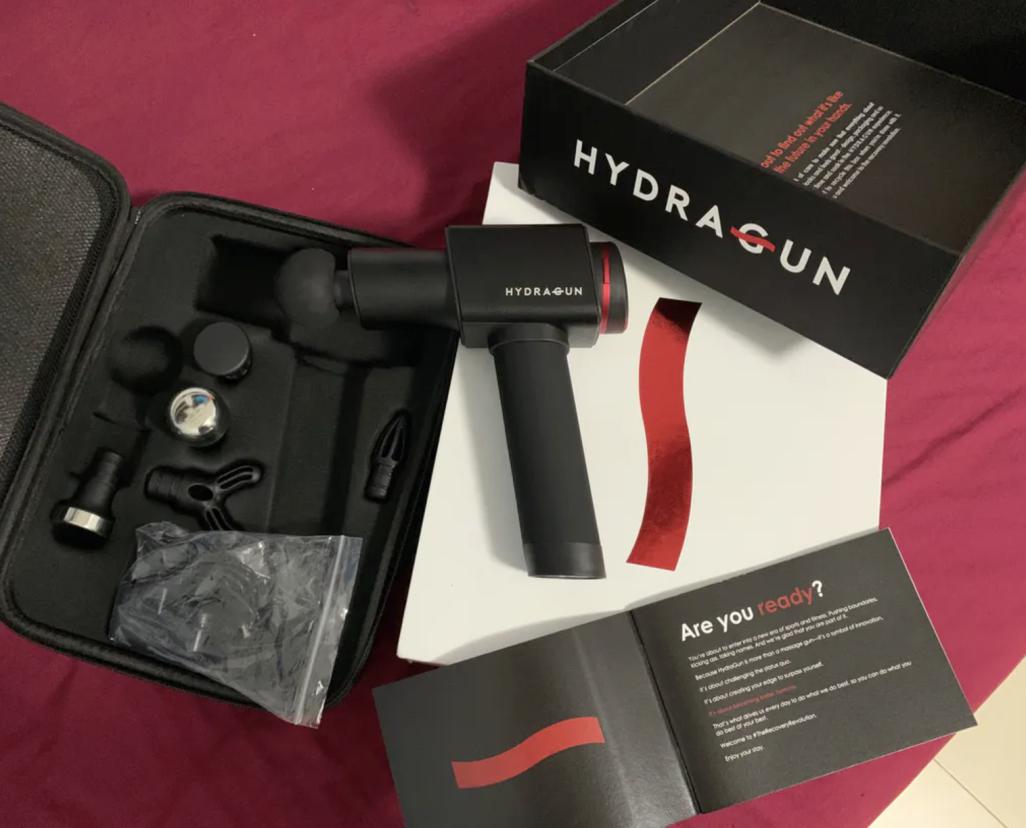 If you're active on Instagram, then chances are you've already heard about HYDRAGUN. But just in case you haven't, HYDRAGUN is a company that launched in Australia in October 2020. Their primary focus is to sell recovery tools that will help people live their best lives through peak performance and recovery.
I first came across HYDRAGUN after seeing numerous athletes I follow on Instagram — especially Olympic swimmer Cate Campbell and MMA fighter Angela Lee — rave about this product. Obviously, my interest was piqued, and when I couldn't stand it any longer, I purchased my own muscle gun from this brand.
My HYDRAGUN kit arrived three days after I ordered it, which I was honestly impressed by because the brand told me that it would take at least 4–7 days. So, we're off to a great start.
When I opened my box, these are what I found:
1 massage gun

6 attachment heads (two of them are stainless steel heads)

1 plug-in charger and an adapter

1 user manual

A few rubber bands that can replace the ones that come with the attachment heads

Protective carrying case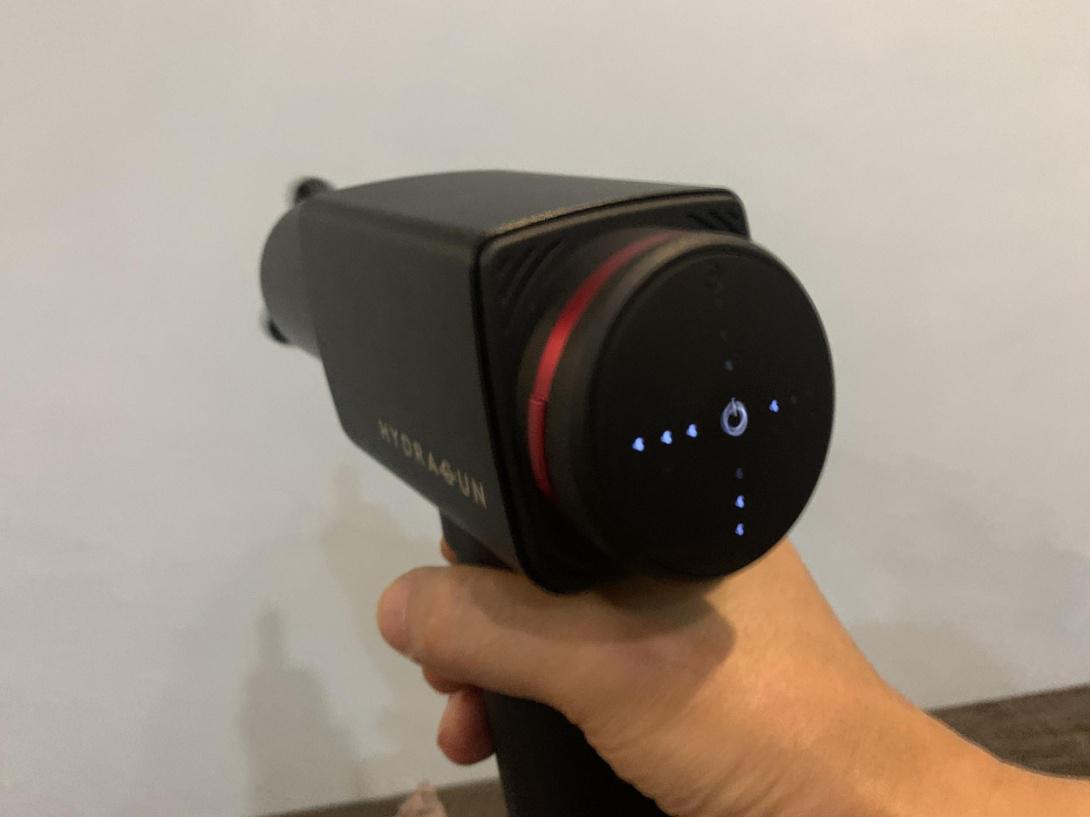 The first thing that caught my eye when I opened my box was the attachment heads. HYDRAGUN offers two attachment heads that are stainless steel, which is something I haven't seen from any of the brands I tried before. I was curious about what made the stainless steel heads different, so I tried — and I discovered that it's easier to use the steel heads when I'm using the muscle gun over my clothes. I appreciate how HYDRAGUN seems to know what I need even when I wasn't aware at first that I needed this in my life.
I also appreciate how my HYDRAGUN came with an adapter for the charger and a protective carrying case for the device and its necessary components. I don't have to go to a hardware store just to purchase an adapter, and I can keep all the important things in one bag. Plus, the bag is actually water-resistant (I knew this because I accidentally spilled my glass of water and was surprised to see that everything was dry inside).
HYDRAGUN really thought things through when it comes to the convenience of their products. I commend them for that.
Why HYDRAGUN Is Perfect for YOU, a Non-Athlete
Honestly, I could talk all day about how great the HYDRAGUN has been for me, but this post isn't about me — at least not fully. Part of the reason I wrote this post in the first place is to convince you that HYDRAGUN is perfect for you too — even though you're not a professional athlete.
You see, when I started using this muscle gun and wouldn't shut up about it for days, my friends got curious, and they wanted to borrow mine for a try. None of them are sports lovers like me — one friend is a writer while the other is a stay-at-home mom who works as a freelance graphic designer at the side — so I expected that they'd only try it once.
But then, they kept borrowing it, and eventually, they wouldn't shut up about it. They told me all the things they loved about HYDRAGUN, and combining those comments with my own, I decided to make a list of reasons HYDRAGUN is also good for non-athletes. The reasons are as follows:
There Is a Variety of Speed/Strength Settings to Choose From
The HYDRAGUN comes with six settings for speed and strength, which is great because it allows you to customize your massage according to your needs. If you want a light massage, you can choose the lowest setting; if you want a deep massage, choose the highest setting. And if you're not sure what kind of massage you want, you can just experiment with the other settings and see what you like best.
I recommend using the low settings before you actually set out to do your tasks. This way, your muscles will be energized enough to power you through your tasks. Then, at the end of the day, when you're tired after work, I recommend choosing the high settings to help relax and recover your muscles.
It's Quiet — Even at the Highest Setting
I don't know what your exact life situation is, but my best guess is that you're working from home, so you spend lots of hours either sitting in front of your computer or cleaning around your house. It's also likely that you have a family with you, so your house is extra noisy.
Because of this, you wouldn't want your massage gun to contribute much more to the noise already. It would just annoy everyone inside the house — and possibly even your co-workers if you're on a call.
Luckily, HYDRAGUN is quiet — like really, really quiet. Even at the highest setting, you can barely hear the whirring sound of the motor inside the device. This makes the HYDRAGUN easy to use whenever and wherever.
Want to get a massage while you're talking with your co-workers? Sure, go for it! (Don't do it as often though — or at least don't show them what you're doing. They might think you're being rude.)
How about when you're watching TV to unwind? Yep, that's good too.
You can even use the HYDRAGUN while your child is taking a nap. With this device, you can do whatever your heart desires.
The Battery Can Last a Long Time — Up to 7 Hours!
According to their website, HYDRAGUN's battery life is 6 hours. But I've discovered that sometimes, depending on my usage, it can even reach up to 7. This is already a couple of days' worth of massages since one session lasts about 10–15 minutes.
You will appreciate HYDRAGUN's long battery life because you're probably already using most of the available sockets inside your house and it's so frustrating trying to find a free spot for your muscle gun.
And even when you do have to charge the device after draining it, you'll only need 45 minutes of your time to get a full charge. Isn't that just neat?
It's a Quality Product at an Affordable Price
Most brands price their products on the higher end — up to 1,200 AUD. And even if you do find extremely cheap alternatives off of Amazon, they're just poorly built knockoffs and they'll get damaged after a few sessions.
HYDRAGUN, on the other hand, comes at an affordable price for an excellent muscle gun. It only costs 399 AUD, and it already gives you so many benefits. That's a steal if you ask me.
So, Should You Get the HYDRAGUN?
In my opinion, I think you should. If you're working from home, you'll likely experience pain in your back or your wrists and you'll naturally want relief from that pain. Since massage therapy is expensive, investing in a percussive massager is a great idea.
And out of all the types of massage gun Australia has right now, HYDRAGUN is the one I would recommend for you. Armed with a variety of strength settings, a quiet motor, a long-lasting battery, and a sensible price, it's the percussive massager to beat right now.
So, what are you waiting for? Get your own HYDRAGUN, and let me know what you think about it. I'd like to hear your thoughts.